The Plot Against America (Movie Tie-in Edition) (Vintage International) (Paperback)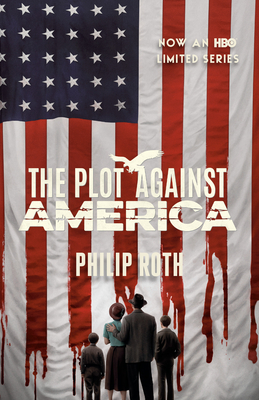 Description
---
Philip Roth's bestselling alternate history novel--the chilling story of what happens to one family when America elects a charismatic, isolationist president--is now an HBO limited series.

In an extraordinary feat of narrative invention, Philip Roth imagines an alternate history where Franklin D. Roosevelt loses the 1940 presidential election to heroic aviator and rabid isolationist Charles A. Lindbergh. Shortly thereafter, Lindbergh negotiates a cordial "understanding" with Adolf Hitler, while the new government embarks on a program of folksy anti-Semitism.

For one boy growing up in Newark, Lindbergh's election is the first in a series of ruptures that threaten to destroy his small, safe corner of America-and with it, his mother, his father, and his older brother.
About the Author
---
In 1997 Philip Roth won the Pulitzer Prize for American Pastoral. In 1998 he received the National Medal of Arts at the White House and in 2002 the highest award of the American Academy of Arts and Letters, the Gold Medal in Fiction. He twice won the National Book Award and the National Book Critics Circle Award. He won the PEN/Faulkner Award three times. In 2005 The Plot Against America received the Society of American Historians' Prize for "the outstanding historical novel on an American theme for 2003-2004." Roth received PEN's two most prestigious awards: in 2006 the PEN/Nabokov Award and in 2007 the PEN/Bellow Award for achievement in American fiction. In 2011 he received the National Humanities Medal at the White House, and was later named the fourth recipient of the Man Booker International Prize. He died in 2018.
Praise For…
---
"A terrific political novel.... Sinister, vivid, dreamlike ... creepily plausible.... You turn the pages, astonished and frightened." —The New York Times Book Review

"Huge, inflammatory, painfully moving.... Far and away the most outward-looking, expansive ... book Roth has written." —The Washington Post Book World

"Roth's most powerfrul book to date. Confounding and illuminating, enraging and discomfiting, imaginative and utterly–terrifyingly–believable." —San Francisco Chronicle

"Once again, Philip Roth has published a novel that you must read–now.... A stunning work." —The Christian Science Monitor 

"It's not a prophecy; it's a nightmare, and it becomes more nightmarish–and also funnier and more bizarre–as is goes along.... [A] sinuous and brilliant book, with its extreme sweetness, its black pain, and its low, ceaseless cackle." —The New Yorker

"Ambitious and chilling ... a breath-taking leap of imagination.... The writing is brilliant." —USA Today

"Intimately observed characters in situations fraught with society's deepest, most bitter tensions.... Too ingeniously excruciating to put down." —Newsweek

"Never has [Roth's voice] been more nuanced ... beautifully particularized.... [A] novelist who for 45 years has been continuously reinventing himself, never more notably than in The Plot Against America." —The Boston Globe

"Ingenious ... Roth's gorgeous and forceful prose, which swirls and dances and rages . . . has never seemed more precise and lucid." —Star-Telegram (Dallas/Fort Worth) 

"Raises the stakes as high as a patriotic novel can take them.... Effortlessly, it seems, Roth has led us to suspend disbelief; then he makes us believe; then he suspends this belief and finally removes it.... A fabulous yarn." —Los Angeles Times Book Review

"A remarkable act of historical imagination and one of [Roth's] most moving novels." —People 

"Roth takes readers on a harrowing safari across interdimensional borders into a bizarre version of his hometown.... [His] delivery is so matter-of-fact, so documentary deadpan that when we're 10 pages into the book our own world starts to seem like a flimsy fantasy." —Time

"The most compelling of living writers.... [His] every book is like a dispatch from the deepest recesses of the national mind." —New York Magazine

"A richly terrifying historical novel.... [Roth is] the greatest fiction writer America has ever produced." —Esquire

"The writing is extraordinary, complex but highly readable, evocative, and colored with a tenderness and affection.... This is one of Roth's finest books." —O (The Oprah Magazine)