Here: I Can Be Mindful (Hardcover)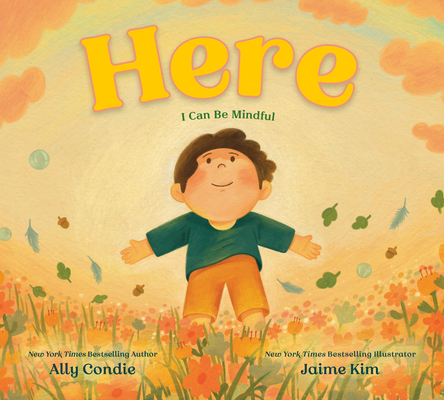 Description
---
In her debut picture book, the mega-bestselling author of the young adult Matched series introduces children to mindfulness and being grounded in the present.

"A gentle child's-eye view of mindfulness." —Kirkus Reviews

Everyone experiences a wide range of emotions, and some of them are not easy to handle. Bestselling novelist Ally Condie has crafted a thoughtful and atmospheric meditation that illustrates some practical ways to stay grounded when the world feels overwhelming. We can feel, taste, look, hear, or smell. We can be creative or express our thoughts. We can do kind things for others. We can ask for a hug.

Here gently instructs young readers how to slow down, be present, and to use all their senses in order to appreciate the beauty around them, to connect with nature, and to feel calm in their bodies and minds. By getting out of our heads and focusing on one thing at a time and being present, we realize that these hard feelings are not as big and scary as they seem.
About the Author
---
Ally Condie is the author of the #1 New York Times bestselling Matched trilogy and co-author of the Darkdeep middle grade series. She is also the author of the novel Summerlost, an Edgar Award Finalist. A former English teacher, Ally lives with her family outside of Salt Lake City, Utah. Ally has an MFA from the Vermont College of Fine Arts, and is the founder and director of the nonprofit WriteOut Foundation. Visit Ally online at AllyCondie.com, or follow her on Twitter: @AllyCondie.

Jamie Kim was born and raised in South Korea and now lives in North Carolina. Although she was a timid child who was afraid of just about everything, she discovered a sense of serenity in drawing. As a grown-up, Jaime finally stopped being afraid of everything, but kept on drawing and painting. She works with gouache, watercolors and acrylics to create nostalgic and dreamlike illustrations, inspired by childhood memories of her family, as well as movies, art, and the outside world. Her favorite things are the sun, the moon, the sky and stars--which is why they always creep into her artwork. Her debut illustrated picture book, Take Heart, My Child, was a #1 New York Times bestseller. Visit Jaime online at JaimeKim.com.
Praise For…
---
"A gentle child's-eye view of mindfulness." —Kirkus Reviews

"Inviting readers to ground themselves, catalog-like text that works as a beginner's mindfulness manual offers reassurance that the tools for self-soothing and self-awareness are always close at hand." —Publishers Weekly