Different Kinds of Minds: A Guide to Your Brain (Hardcover)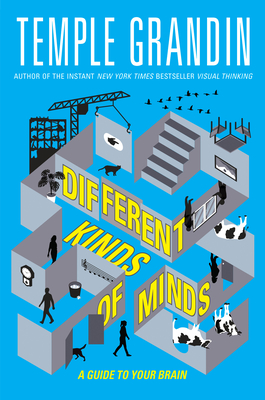 $18.99

Pre-Order Now! Please Place On A Separate Order From Other Purchases.
Description
---
Albert Einstein. Steve Jobs. Elon Musk. Maya Lin. These geniuses are all visual thinkers. Are you?

Do you like puzzles, coding, and taking things apart? Do you write stories, act in plays, slay at Wordle? The things you are good at are clues to how your brain works. Are you good at math? Working with your hands? Are you a neat freak or a big mess?

With her knack for making science easy to understand, Temple Grandin explains different types of thinkers: verbal thinkers who are good with language, and visual thinkers who think in pictures and patterns. You will discover all kinds of minds and how we need to work together to create solutions to help solve real-world problems.
About the Author
---
Temple Grandin is a distinguished professor of animal science at Colorado State University and the author of the New York Times bestsellers Animals in Translation, Animals Make Us Human, The Autistic Brain, and Thinking in Pictures, which became an HBO movie starring Claire Danes. Dr. Grandin has been a pioneer in improving the welfare of farm animals as well as an outspoken advocate for the autism community. She resides in Fort Collins, Colorado. You can visit Temple Grandin online at TempleGrandin.com or follow her on Twitter @DrTempleGrandin and on Facebook @DrTempleGrandin.