Have I Told You This Already?: Stories I Don't Want to Forget to Remember (Hardcover)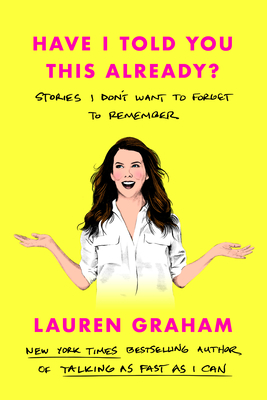 $28.00

Pre-Order Now! Please Place On A Separate Order From Other Purchases.
Description
---
From the beloved star of Gilmore Girls and the New York Times bestselling author of Talking as Fast as I Can comes a candid, insightful, and wildly entertaining essay collection about her years in show business, featuring stories that range from the sublime to the ridiculous.

Lauren Graham has graced countless television screens with her quick wit and larger-than-life personality, earning a reputation as a pop culture icon who always has something to say—and fast. Now Graham shares personal stories about her career in entertainment, from her early days navigating Los Angeles as a struggling actress in a red Volkswagen, to her first appearance on late-night TV, to the challenges of aging gracefully in Hollywood. With her signature sense of humor and down-to-earth storytelling, she tells all and never spares a detail (as long as she hasn't forgotten it).

In "R.I.P. Barneys New York" she writes about an early job as a salesperson at the legendary department store (and the time she inadvertently shoplifted); in "Ryan Gosling Cannot Confirm" she attempts to navigate the unspoken rules of Hollywood hierarchies; in "Ne Oublie" she warns us about the perils of coming from an extremely forgetful family; and in "Actor-y Factory" she recounts what a day in the life of an actor looks like (unless you're Brad Pitt). She also welcomes back her alter ego Old Lady Jackson to share some more homespun wisdom ("Buy wrapping paper in January when it goes on sale") and reveal the easiest recipe for orange marmalade you'll ever find (which isn't actually easy, because easy recipes for marmalade are a total time suck and just another internet lie).

Filled with surprising anecdotes, sage advice, and laugh-out-loud observations, these all- new, original essays showcase the winning charm and wry humor that have delighted Graham's millions of fans.
About the Author
---
Lauren Graham is an actor, writer, and producer best known for her roles on the critically acclaimed series Gilmore Girls and Parenthood. She is also the New York Times bestselling author of In Conclusion, Don't Worry About It; Talking as Fast as I Can; and the novel Someday, Someday, Maybe. Graham has performed on Broadway and appeared in such films as Bad Santa, Because I Said So, and Max. She holds a BA in English from Barnard College and an MFA in acting from Southern Methodist University. Lauren Graham lives in New York and Los Angeles.