Hunted: Book Six of The Iron Druid Chronicles (Paperback)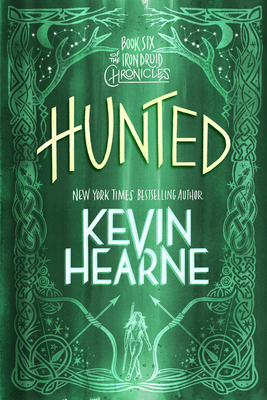 $17.00

Backordered - Not Currently Available.
Other Books in Series
This is book number 6 in the The Iron Druid Chronicles series.
Description
---
In the sixth novel in the New York Times bestselling Iron Druid Chronicles, two-thousand-year-old Druid Atticus O'Sullivan finds himself the target of two goddesses of the hunt and a trickster god determined to unleash the apocalypse.

"[Kevin] Hearne is a terrific storyteller with a great snarky wit. . . . Neil Gaiman's American Gods meets Jim Butcher's Harry Dresden."—SFFWorld

For someone who's been alive for two thousand years, Atticus O'Sullivan is a pretty fast runner. Good thing, because he's being chased by not one but two goddesses of the hunt—Artemis and Diana—for messing with one of their own. Dodging their slings and arrows, Atticus, Granuaile, and his wolfhound, Oberon, are making a mad dash across modern-day Europe to seek help from a friend of the Tuatha Dé Danann. His usual magical option of shifting planes is blocked, so instead of playing hide-and-seek, the game plan is . . . run like hell.

Crashing the pantheon marathon is the Norse god Loki. Killing Atticus is the only loose end he needs to tie up before unleashing Ragnarok—AKA the Apocalypse. Atticus and Granuaile have to outfox the Olympians and contain the god of mischief if they want to go on living—and still have a world to live in.

Don't miss any of The Iron Druid Chronicles:
HOUNDED | HEXED | HAMMERED | TRICKED | TRAPPED | HUNTED | SHATTERED | STAKED | SCOURGED | BESIEGED
About the Author
---
Kevin Hearne hugs trees, pets doggies, and rocks out to heavy metal. He also thinks tacos are a pretty nifty idea. He is the author of A Plague of Giants and the New York Times bestselling series The Iron Druid Chronicles.


Praise For…
---
Praise for The Iron Druid Chronicles

"[Kevin] Hearne is a terrific storyteller with a great snarky wit. . . . Neil Gaiman's American Gods meets Jim Butcher's Harry Dresden."—SFFWorld

"[The Iron Druid books] are clever, fast-paced and a good escape."—Boing Boing

"Hearne understands the two main necessities of good fantasy stories: for all the wisecracks and action, he never loses sight of delivering a sense of wonder to his readers, and he understands that magic use always comes with a price. Highly recommended."—The Magazine of Fantasy & Science Fiction

"Superb . . . plenty of quips and zap-pow-bang fighting."—Publishers Weekly (starred review)

"Celtic mythology and an ancient Druid with modern attitude mix it up in the Arizona desert in this witty new fantasy series."—Kelly Meding, author of Chimera

"[Atticus is] a strong modern hero with a long history and the wit to survive in the twenty-first century. . . . A snappy narrative voice . . . a savvy urban fantasy adventure."—Library Journal

"A page-turning and often laugh-out-loud funny caper through a mix of the modern and the mythic."—Ari Marmell, author of The Warlord's Legacy

"Outrageously fun."—The Plain Dealer

"Kevin Hearne breathes new life into old myths, creating a world both eerily familiar and startlingly original."—Nicole Peeler, author of Tempest Rising