What It's Like to Be a Bird (Adapted for Young Readers): From Flying to Nesting, Eating to Singing--What Birds Are Doing, and Why (Hardcover)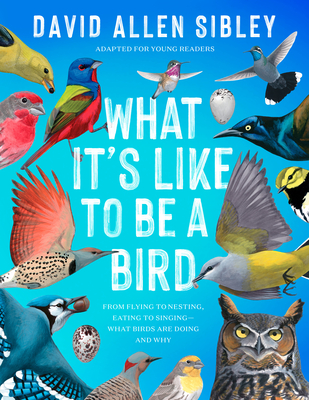 $19.99

Pre-Order Now! Please Place On A Separate Order From Other Purchases.
Description
---
In this edition for young readers adapted from the bestselling work written and illustrated by David Allen Sibley, readers will find a unique treasure trove of fascinating facts about birds, paired with more than 300 full-color illustrations—some life-size! The extraordinary world of birds is brought to life on the page.

Did you know that many species of birds have sensory abilities that surpass those of humans? Or that some birds spend the entire winter in the air, and even sleep while flying? Have you ever wondered why birds have feathers? Or why they are a particular color? Have you noticed that some birdsong sounds like a musical scale?

Maybe you're more interested in "how" questions: How do birds actually fly or swim? How and why do some birds migrate? How do they find food? How do they take care of their offspring?

Birds are not only beautiful and fascinating, but they also serve an essential role in our ecosystem. This book shows how birds and humans are intrinsically connected, sometimes helping and sometimes hindering each other.

Perfect for dedicated birdwatchers—or for anyone who simply delights in noticing birds in their neighborhood. Readers can explore, share, and return to the pages again and again, each time gaining a broader appreciation for our enchanting feathered friends.
About the Author
---
DAVID ALLEN SIBLEY is the author and illustrator of the series of successful guides to nature that bear his name, including The Sibley Guide to Birds. He has contributed to Smithsonian, Science, The Wilson Journal of Ornithology, Birding, BirdWatching, North American Birds, and The New York Times. He is a recipient of the Roger Tory Peterson Award for Promoting the Cause of Birding from the American Birding Association and the Linnaean Society of New York's Eisenmann Medal. He lives and birds in Massachusetts.
Praise For…
---
"Lingering over every page of What It's Like to Be a Bird, this is what can be seen: The book's beauty mirrors the beauty of birds it describes so marvelously." —NPR

"Any new Sibley book is an event . . . A sprightly, information-packed encyclopedia of bird behavior. What lifts it into the realm of art is Sibley's illustrations—330 of them, many life-size. Captured in pencil and gouache, Sibley's birds are as scientifically accurate as Peterson's or Audubon's, but less static, more alive . . . The American robin with a rust-red Dickensian waistcoat; a martial, copper-feathered red-tailed hawk perched watchful along a country road—these and all the birds celebrated in What It's Like to Be a Bird seem ready to take flight." —Peter Fish, San Francisco Chronicle

"An afternoon with this sprawling volume on my lap was a lovely way to tolerate a day of social distancing . . . What It's Like to Be a Bird gives Sibley's artwork ample room to spread its wings . . . In a spring shadowed by the darker mysteries of nature, Sibley's book is a welcome occasion to connect with the more pleasing puzzle of what our feathered friends are up to." —Danny Heitman, The Christian Science Monitor

"After years of rushing to his indispensable field guides for sure resolution of any bird or tree ID conundrum, I'm delighted to find David Allen Sibley stretching his considerable artistic and literary wings . . . Having painted them all in every possible plumage permutation, evenly lighted and in profile, Mr. Sibley's joy in creating chiaroscuro tableaux of birds feeding, flying and tending their young is palpable . . . Expect to be surprised at the mental and physical capabilities of birds." —Julie Zickefoose, The Wall Street Journal

"Simply gorgeous . . . Appropriate for general readers as well as bird experts, and it is perfectly suitable for young readers . . . As the world's bird population shrinks, it is helpful and even inspiring to learn as much as possible about the amazing feathered creatures that share our planet. There is no better way than to browse through David Allen Sibley's new book, What It's Like to Be a Bird." —Nancy Gilson, The Columbus Dispatch

"You'll want to linger on each page to enjoy Sibley's illustrations . . . If you love birds, you'll love this book." —Jennifer J. Meyer, The Backyard Birder

"Sibley answers all kinds of questions people have about birds . . . [His] exacting artwork and wide-ranging expertise bring observed behaviors vividly to life." —Birdwatching

"Gorgeous art and fascinating information come together here. The organization makes it easy to pick up and read whatever strikes your fancy, while the depth of information means that anyone can learn a great deal. And then there's the art—lots and lots of it. All that makes this book attractive to anyone even remotely interested in birds." —The Birder's Library

"A fascinating work that fulfills its goal to 'give readers some sense of what it's like to be a bird' . . . [Readers] will emerge with a deeper appreciation of birds, and of what observable behaviors can reveal about animals' lives." —Publishers Weekly