The Good Part (Paperback)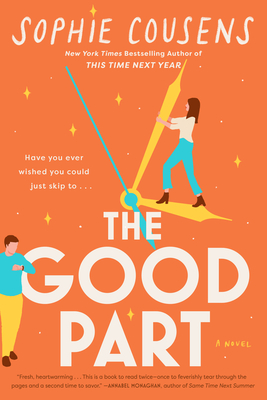 Description
---
Is living the life you've wished for really a dream come true?

Lucy Young is twenty-six and tired. Tired of fetching coffees for senior TV producers, sick of going on disastrous dates, and done with living in a damp flat with roommates who never buy toilet paper. After another disappointing date, Lucy stumbles upon a wishing machine. Pushing a coin into the slot, Lucy closes her eyes and wishes with all her might: Please, let me skip to the good part of my life.

When she wakes the next morning to a handsome man, a ring on her finger, a high-powered job, and two storybook-perfect children, Lucy can't believe this is real—especially when she looks in the mirror, and staring back is her own fortysomething face. Has she really skipped ahead like she's always wanted, or has she simply forgotten a huge chunk of her life? As Lucy begins to embrace new relationships and the perks of maturity, she'll have to ask herself: Can she go back to her previous life, and if so, can she stand to leave the good part behind?
About the Author
---
Sophie Cousens is the New York Times bestselling author of This Time Next Year, Just Haven't Met You Yet, Before I Do, and The Good Part. She previously worked as a TV producer in London for more than twelve years and now lives with her family on the island of Jersey, one of the Channel Islands, located off the north coast of France. She balances her writing career with taking care of her two small children, and longs for the day when she might have a dachshund and a writing shed of her own.
Praise For…
---
One of PopSugar's Best Romances of the Year
One of USA Today's Best Romance Books for Fall
One of Zibby Magazine's Most Anticipated Books
One of The Everygirl's Best Books of 2023
One of Christian Science Monitor's Best Books of November

"Filled with charming moments, lovable characters, and a bit of magic . . . This saga has it all." —Woman's World

"Cousens is a master at building emotional impact without becoming maudlin or sentimental. . . . Cousens acknowledges her book's debt to classic films like 13 Going on 30 and Big, and it captures some that nostalgia while also feeling fresh and relevant." —Book Reporter

"A modern day 13 Going on 30, Sophie Cousens' latest will make you laugh, it will make you cry, and most of all, it will make you want to live." —The Everygirl

"Enchanting." —BookBub

"Best selling Cousens . . . knocks it out of the park with this whimsical story that is reminiscent of the movie 13 Going on 30 . . . This heartfelt and unique romcom will have readers on the edges of their seats up to the emotional conclusion." —Booklist (starred review)

"A moving and funny reminder that life is meant to be lived one day at a time." —Kirkus Reviews (starred review)

"A delightful and thought-provoking new novel. . . . [Cousens] sprinkles some magic throughout the pages." —Country Living

"Funny and heartfelt . . . Perfect for fans of romantic comedies with a touch of whimsy, like 13 Going on 30 and Freaky Friday, and authors like Josie Silver and Rebecca Serle." —Nerd Daily

"A fresh, heartwarming work of art, The Good Part left me buried under an avalanche of emotions and with a new appreciation for the life's small, beautiful moments. This is a book to read twice - once to feverishly tear through the pages and a second time to savor." —Annabel Monaghan, author of Nora Goes Off Script and Same Time Next Summer

"Warm, funny, joyful and wise . . . With a brilliant premise The Good Part explores the grass is greener concept through a wonderfully loveable heroine. If you want to giggle and feel all the swoony feels do pick up a copy of Cousen's latest." —Cesca Major, author of Maybe Next Time

"A charming look at the road not taken, The Good Part delves into both the ooey goodness and the messy realities of growing up and landing on both feet. A tender and delightful exploration of that age-old question: what if?" —Allison Winn Scotch, bestselling author of The Rewind

"Delightfully zany and full of heart, the perfect read for anyone who has ever felt a little lost in their own life (and who among us hasn't?). . . . New favorite Sophie Cousens book." —Becca Freeman, author of The Christmas Orphans Club

"This charming and poignant timeslip story had me considering my own experiences from a new perspective and with a renewed sense of gratitude. Sophie Cousens is one of a select few authors I will happily allow to break my heart again and again because it's just such a pleasure to find out how she'll mend it." —Sarah Adler, author of Mrs. Nash's Ashes

"A delight . . . With characters that are full of heart, this book is the reminder we all need to stop and relish all the moments along the way to whatever our dream life looks like. I couldn't put it down!" —Betty Cayouette of Betty's Book List and the author of One Last Shot