Tithe: A Modern Faeire Tale (The Modern Faerie Tales) (Hardcover)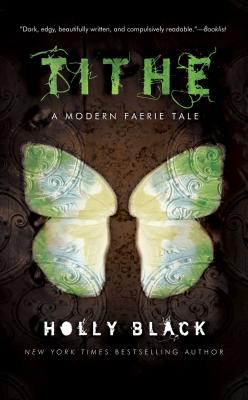 Description
---
In the realm of very scary faeries, no one is safe.

Sixteen-year-old Kaye is a modern nomad. Fierce and independent, she travels from city to city with her mother's rock band until an ominous attack forces the sixteen-year-old back to her childhood home. There, amid the industrial, blue-collar New Jersey backdrop, Kaye soon finds herself an unwilling pawn in an ancient power struggle between two rival faerie kingdoms—a struggle that could very well mean her death.

Holly Black's enormously powerful voice weaves teen angst, riveting romance, and capriciously diabolical faerie folk into an enthralling, engaging, altogether original reading experience.
About the Author
---
Holly Black is the author of bestselling contemporary fantasy books for kids and teens. Some of her titles include The Spiderwick Chronicles (with Tony DiTerlizzi), the Modern Faerie Tales series, the Curse Workers series, Doll Bones, The Coldest Girl in Coldtown, The Darkest Part of the Forest, the Magisterium series (with Cassandra Clare), and the Folk of the Air series. She has been a finalist for the Mythopoeic Award, a finalist for an Eisner Award, and the recipient of both an Andre Norton Award and a Newbery Honor. She lives in New England with her husband and son in a house with a secret door. Visit her at BlackHolly.com.
Praise For…
---
Annette Curtis Klause author of Blood and Chocolate and Silver Kiss Not only are the descriptions of our world and the world of Faery crisp, delicious, and detailed, but the characters are intriguing and complex, also. I like that these are feral, amoral faeries and not the tame, innocent Victorian version, and that the teenagers aren't tame, either.