Megabat (Hardcover)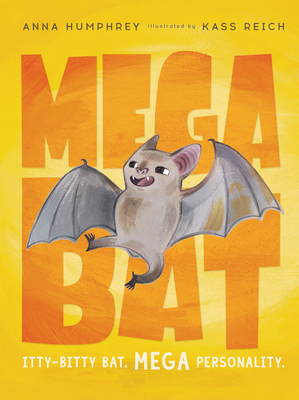 Other Books in Series
This is book number 1 in the Megabat series.
Description
---
A sweet and hilarious chapter book about a boy and a bat, two unlikely friends who bond over loneliness, jellyrolls and Darth Vader.

Daniel Misumi has just moved to a new house. It's big and old and far away from his friends and his life before. AND it's haunted . . . or is it?

Megabat was just napping on a papaya one day when he was stuffed in a box and shipped halfway across the world. Now he's living in an old house far from home, feeling sorry for himself and accidentally scaring the people who live there.

Daniel realizes it's not a ghost in his new house. It's a bat. And he can talk. And he's actually kind of cute.

Megabat realizes that not every human wants to whack him with a broom. This one shares his smooshfruit.

Add some buttermelon, juice boxes, a lightsaber and a common enemy and you've got a new friendship in the making!

This charming, funny story is brought to life by Kass Reich's warm and adorable illustrations. There's never been a bat this cute -- readers will be rooting for Megabat and Daniel from page one!
About the Author
---
ANNA HUMPHREY has worked as a marketing person for a poetry organization, in communications for the Girl Guides of Canada, as an editor for a web-zine, an intern at a decorating magazine and for the government. None of those was quite right, so she started her own freelance writing and editing business on top of writing for kids and teens. She has been published by Disney Hyperion, Simon & Schuster and HarperTeen, and recently kicked off her Clara Humble series with Owlkids to great acclaim. She lives in a big, old brick house in Kitchener, Ontario, with her husband and two kids and no bats. Yet.

KASS REICH was born in Montreal, Quebec. She works as an artist and educator and has spent a majority of the last decade traveling and living abroad. Kass graduated with a degree in art education from Concordia University and then picked up and moved to Beijing where she worked as an early childhood educator for nearly three years. After Beijing she lived in Hong Kong, London, England and Melbourne, Australia. She now finds herself back in Canada, but this time in Toronto. Kass loves creating books for all ages, like Carson Crosses Canada and Hamsters Holding Hands. This is her first book about a bat.
Praise For…
---
One of Amazon.com's Best Children's Books of 2018
One of Fuse's Best Early Chapter Books of 2018
A Canadian Children's Book News Bookseller Recommendation (Winter 2018)
One of Quill & Quire's Books of the Year 2018
One of Canadian Children's Book Centre's Favourite Books of The Year 2018
The Oregon Library Association, 2021 Beverly Cleary Children's Choice Awards (Finalist)

PRAISE FOR Megabat:

"This talking fruit bat charms everyone he meets: a young boy named Daniel, a pigeon love interest, and discerning young readers." --Quill & Quire

"The miscommunications between humans and a fruit bat are ridiculous yet funny, and Reich's soft illustrations add further, gentle humor. . . . A charming tale." --Kirkus Reviews

"Megabat is a fast-paced novel that will have young readers wanting more. . . . [A] highly engaging read with hilarious capers, engaging characters, and gorgeous illustrations. . . . Recommended." --CM Magazine 

" A warm tale . . . augmented by amusing graphite illustrations from [Kass] Reich." --Publishers Weekly

"[Kass] Reich's expressive black-and-white illustrations are filled with detail and texture, especially with Megabat's delightful facial expressions, and help guide the story along. Great for readers who enjoy Kate DiCamillo's Mercy Watson books." --Booklist

"Megabat is a delightful story . . .  A must for any school or public library, especially as a read-aloud." --Resource Links

"This is the cutest story I've ever read. A great book for an early reader." --Story Monsters Ink

"When boy and bat get together, they come to understand one another and join forces against a common enemy in this lively story of Birdgirl, Megabat, Daniel, and their community." --Midwest Book Review