A Giant Problem (Beyond the Spiderwick Chronicles) (CD-Audio)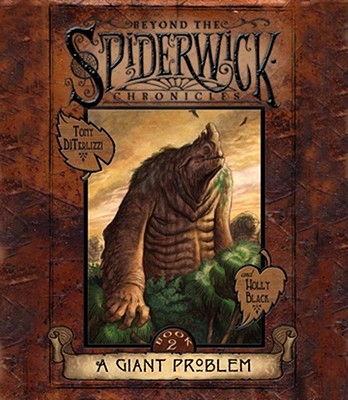 $17.99
Email or call for price.
Description
---
Talk about out of the frying pan, into the fire! I was pretty sure that my freaky stepsister and that freaky field guide of hers would ruin my life. But now it looks like they're going to ruin all of Florida, too! Okay, maybe that's not fair. Maybe all these stupid giants would be waking up anyway, but if it wasn't for her and that book, I'd be home playing video games and this would be someone else's giant problem!
About the Author
---
Holly Black is the author of bestselling contemporary fantasy books for kids and teens. Some of her titles include The Spiderwick Chronicles (with Tony DiTerlizzi), the Modern Faerie Tales series, the Curse Workers series, Doll Bones, The Coldest Girl in Coldtown, The Darkest Part of the Forest, the Magisterium series (with Cassandra Clare), and the Folk of the Air series. She has been a finalist for the Mythopoeic Award, a finalist for an Eisner Award, and the recipient of both an Andre Norton Award and a Newbery Honor. She lives in New England with her husband and son in a house with a secret door. Visit her at BlackHolly.com.

Tony DiTerlizzi is a #1 New York Times bestselling author and illustrator who has been creating books for twenty years. From fanciful picture books, such as Jimmy Zangwow's Out-of-This-World Moon-Pie Adventure and The Spider and the Fly (a Caldecott Honor Book), to fantastic middle grade novels like Kenny & the Dragon and the WondLa trilogy, Tony imbues each story with his rich imagination. He created The Spiderwick Chronicles with Holly Black, which has sold millions of copies around the world. You can learn more about Tony at DiTerlizzi.com.

Since starring in movies like Pretty in Pink, St Elmo's Fire, and Less Than Zero, Andrew McCarthy has become a director, an award-winning travel writer, and a bestselling author. He has directed more than eighty hours of television, including Orange Is the New Black, The Blacklist, Gossip Girl, and many others. For a dozen years he served as editor at large at National Geographic Traveler and his award-winning travel writing has appeared in The New York Times, the Atlantic and TIME. He is the author of The Longest Way Home, Just Fly Away, and most recently a memoir, Brat, all New York Times bestsellers.