The Wyrm King (Beyond the Spiderwick Chronicles) (CD-Audio)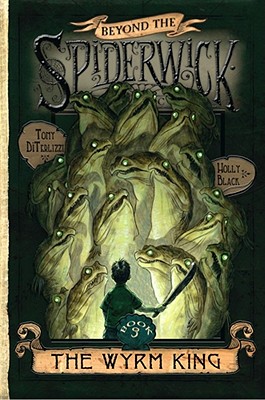 Description
---
In the final installment of Beyond the Spiderwick Chronicles, Nick and Laurie had thought they solved their giant problems when they drove all the giants into the sea. But now, the Grace kids have come back to tell them they may have more trouble coming their way!

It turns out the giants control the population of Hydra, a dragon like creature that is creating sinkholes all over Florida. But with the mermaids refusing to return the giants to the shore, the nixie's still missing and the threat of a destroyed Florida drawing closer, the kids have to take matters in their own hands.

Will Nick and Laurie be able to stop the destruction they unwittingly caused? Can a new giant hunter help save the day? Can Arthur Spiderwick's Field Guide help them out of this or are they on their own?

Find out in the final conclusion of the Spiderwick saga!
About the Author
---
Holly Black is the author of bestselling contemporary fantasy books for kids and teens. Some of her titles include The Spiderwick Chronicles (with Tony DiTerlizzi), the Modern Faerie Tales series, the Curse Workers series, Doll Bones, The Coldest Girl in Coldtown, The Darkest Part of the Forest, the Magisterium series (with Cassandra Clare), and the Folk of the Air series. She has been a finalist for the Mythopoeic Award, a finalist for an Eisner Award, and the recipient of both an Andre Norton Award and a Newbery Honor. She lives in New England with her husband and son in a house with a secret door. Visit her at BlackHolly.com.

Tony DiTerlizzi is a #1 New York Times bestselling author and illustrator who has been creating books with Simon & Schuster for twenty years. From fanciful picture books, such as Jimmy Zangwow's Out-of-This-World Moon-Pie Adventure and The Spider and the Fly (a Caldecott Honor Book), to fantastic middle grade novels like Kenny & the Dragon and the WondLa trilogy, Tony imbues each story with his rich imagination. He created The Spiderwick Chronicles with Holly Black, which has sold millions of copies around the world. You can learn more about Tony at DiTerlizzi.com.