The Fact-Packed Activity Book: Rocks and Minerals: With More Than 50 Activities, Puzzles, and More! (The Fact Packed Activity Book) (Paperback)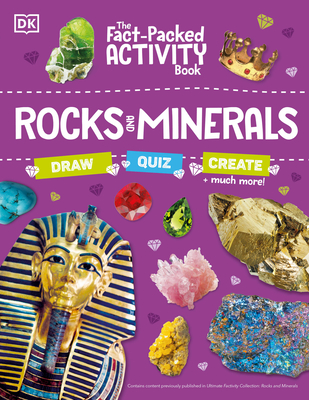 $9.99

Out Of Stock - Can Be Ordered For You. May take extra time.
Description
---
This fun-filled activity book will teach you all about rocks and minerals with exciting activities, puzzles and more!

Uncover all there is to know about the rocks and minerals beneath your feet in this fun-filled activity book. Dig up the Earth's hidden wonders, from ancient rocks to glittering gems, strike gold, and get lost amongst the ancient ruins. No stone is left unturned in this essential activity book!

While kids pore over the pages packed with fascinating facts, the fun challenges, quizzes and puzzles will inspire creativity. Explore the relics and ruins of ancient civilizations and have a go at drawing your own, pick out the fake jewels from the real with a spot the difference game, and twist and turn through the maze to discover mysterious caves. Many more buried adventures await you, if you dare to unearth them! With lively activities that go hand in hand with the educational content, learning has never been so effortlessly fun and easy! Perfect for inquisitive, fact-loving kids and budding geologists, The Fact-Packed Activity Book: Rocks and Minerals will keep young readers entertained for hours!

Dive deep into the pages of this incredible activity book to explore: 

-48 colorful, interactive spreads with simple, age-appropriate tex
-Balance of text and activities on each page make it apt for reluctant readers/learner
-Promotes interactive learnin
-Bright and eye-catching illustrations and photography

A must-have volume for inquisitive and fact-loving kids with a niche for knowledge, The Fact-Packed Activity Book: Rocks and Minerals combines interesting facts about rocks and minerals in the natural world with entertaining activities that encourage children to have fun as they learn. In fact, a recent study suggests that children's activity books help them to develop their reading ability, as well as their literacy and critical thinking. Puzzling out the different steps through each activity naturally improves their comprehension skills whilst they enjoy endless fun along the way! 

Children have a natural curiosity about the world around them. Rocks and minerals contain clues about the Earth and how it works, so a book like this turns their interest into a learning opportunity. Reveal rocks and minerals you didn't even know existed with this all-encompassing fact and activity book ideal for 5-9-year-olds. 

Learning has never been more fun!

At DK, we believe in the power of discovery. So why stop there?

If you like The Fact Packed Activity Book: Rocks and Minerals then why not try The Fact Packed Activity Book: Dinosaurs to travel back in time and discover the diverse world of dinosaurs, or hone your knowledge on the human body with The Fact Packed Activity Book: Human Body.
About the Author
---
We believe in the power of discovery. That's why we create books for everyone that explore ideas and nurture curiosity about the world we live in.
 
From first words to the Big Bang, from the wonders of nature to city adventures, you will find expert knowledge, hours of fun and endless inspiration in the pages of our books. 

https://www.dk.com/