Fifteen Animals! (Boynton on Board) (Hardcover)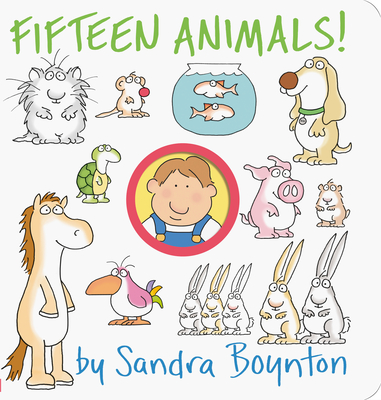 Description
---
A counting book like no other, from Sandra Boynton!
The amazing Bob! The amazing Boynton! Because who else but Sandra Boynton could imagine 15 Bobs in one book? Actually, that's 14 Bobs, and one Simon James Alexander Ragsdale the Third (he's a turtle), which gives Fifteen Animals! the added dimension of being a unique counting book—count the Bobs, count the pets, count the bunnies, count the fish. Fifteen Animals! also comes with a free song available via download. It's all the energy and appeal of Boynton: the lively language, distinctive illustrations, and inimitable characters. And music. And counting. And, for the first time, a person character, an earnest little boy who loves animals and happily sings:

I really like animals,
I like them a lot.
Fifteen animals is what I've got.
I've got fifteen animals.
They're friendly and tame, and
I've given each one a special name.

Make that Bob.
About the Author
---
Sandra Boynton is a popular American cartoonist, children's author, songwriter, producer, and director. Since 1974, Boynton has written and illustrated over sixty children's books and seven general audience books, including five New York Times bestsellers. More than 70 million of her books have been sold, "mostly to friends and family," she says. She has also written (with Michael Ford) and produced six albums of renegade children's music. Three of her albums have been certified Gold (over 500,000 copies sold), and Philadelphia Chickens, nominated for a Grammy, has gone Platinum (over 1 million copies sold). Boynton has also directed twelve music videos of her songs, including the award-winning "One Shoe Blues" starring B.B. King, "Alligator Stroll" starring Josh Turner, and "Tyrannosaurus Funk" (animation) sung by Samuel L. Jackson. She lives in rural New England, and her studio is in a barn with perhaps the only hippopotamus weathervane in America.