Apollo Remastered: The Ultimate Photographic Record (Hardcover)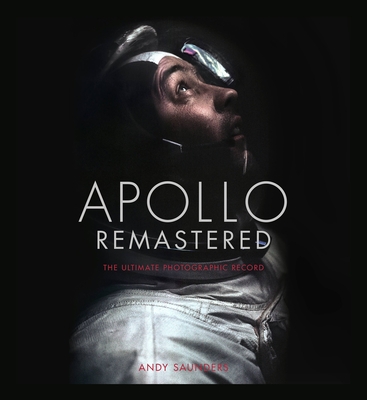 $75.00

Out Of Stock - Can Be Ordered For You. May take extra time.
Description
---
This definitive photographic book about the Apollo missions reveals hundreds of extraordinary, newly-restored, and all-new images from the NASA archives that provide a never-before-seen perspective on the Apollo endeavors more than 50 years after humankind first stepped foot on the moon. 

In Houston, Texas, there is a frozen vault that preserves the original NASA photographic film of the Apollo missions. For half a century, almost every image of the Moon landings publicly available was produced from a lower-quality copy of these frozen originals. Over the last few years, NASA image restorer Andy Saunders has been working hard. Taking newly available digital scans and applying pain-staking care and cutting-edge enhancement techniques, he has created the highest quality Apollo photographs ever produced. Never-before-seen spacewalks and crystal-clear portraits of astronauts in their spacecraft, along with startling new visions of the Earth and the Moon, offer astounding new insight into one of our greatest endeavors.

This is the definitive record of all Apollo missions and a mesmerizing, high-definition journey into the unknown.
 
About the Author
---
Andy Saunders is one of the world's foremost experts of NASA digital restoration. His work has been exhibited at museums, and appeared in BBC News, Daily Telegraph, Smithsonian's Air & Space Magazine, Ars Technica, The Washington Post, as well as in NASA's own archives. He lives in Manchester, England.
Praise For…
---
"Space nerds will geek out over this far-out coffee table book, which features hundreds of never-before-seen images from the Apollo missions, lovingly brought to life by NASA's photo restorer Saunders. Startling spacewalks, portraits of astronauts in their spacecraft and dazzling new views of the Earth and Moon give new insight and perspective on man's exploration of space."—
New York Post
"The new book,
Apollo Remastered
by Andy Saunders shows the Apollo lunar missions like you have never seen them before. The illuminating images are simply out of this world."—
New Scientist
"A weighty coffee table book that beams readers right into its cosmic world... pure magic, full of clarity, sharpness and color that makes readers feel like part of the team--a far cry from those grainy images that were broadcast on TV at the time."—
BookPage
"
Truly epic . . .
Some of the scenes you'll recognize; they're among the most iconic photos ever taken. But others you will not have seen before; and certainly not in the detail that Andy has rendered them. They have a crispness and depth that makes you want to reach out and touch them."—
BBC News
"NASA's Moon missions as you've never seen them before - remastered for a new century."—
The Guardian
"For almost half a century, the original NASA photographic film of the Apollo missions was stored in a frozen vault. But in Apollo Remastered, imaging specialist Andy Saunders takes care to introduce newly enhanced and crisp versions of the original photographs from the missions….By pairing stunning images from the moon's surface with stills from within the spacecraft, Saunders presents a rare look inside these journeys to the moon. The result is an immersive experience that not only captures behind-the-scenes moments, but restores them for future generations."
—
TIME
 "Andy Saunders is a go-to guy for restoring photographs that seem beyond hope. His new book, Apollo Remastered, reveals what happened when this British imaging specialist turned his hand to humanity's ultimate adventure...However much you think you know the Apollo images, never have they been seen quite like this…"
—
National Geographic UK
"A masterpiece."—
Tim Peake, British ESA Astronaut
Andy Saunders's remastered images are so clear and real that they are the next best thing to being there...
They are an exact representation of what I remember from my journey to the Moon on Apollo 16. These photos reveal very precisely what the Moon was really like.—
Charlie Duke, Apollo 16
The images Andy Saunders has produced from the 50 year old original film are just incredible
. I have personally checked the images in the book, and 
if you want to know what it was really like on the Apollo missions, then this is for you. 
The photographs capture the pioneering era I took part in perfectly, and the techniques Andy has used have brought out such fantastic detail from that old original film we took back in the 60s. Maintaining an accurate record of these historic moments is such important work not just now, after half a century, but also for future generations.—
Walter Cunningham, Apollo 7
Andy Saunders' remastered images leave me stunned. They give me chills. 
This is as close as any of us will get to joining the Apollo astronauts on their historic missions to the moon - and it's a lot closer than we ever thought possible. This book, like all of his work, is much more than a thrill to behold; it's a profound contribution to our understanding of humanity's exploration of the heavens.—
Jeff Shesol, author of Mercury Rising
Seeing historians like Andy Saunders produce such cutting-edge results is incredible
. . . Not only has Andy done a remarkable job bringing more details to light, but his incredible work has also created a lot of public excitement.—
Dr. Brian Odom, acting NASA Chief Historian
A peerless photographic masterpiece - almost as audacious as Apollo itself. If you only buy one Apollo before the decade is out make sure it's this one! A total treasure to pore over for a lifetime.
—
Dr. Chris Riley, BAFTA nominated writer, filmmaker and co-producer of In The Shadow Of The Moon
Andy Saunders' remarkable digital imaging skills are rewriting space history. 
Saunders is doing for Project Apollo what the James Webb Space Telescope has done for astronomy: bringing our greatest adventure into sharp and arresting focus.
—
George Leopold, author of the Supersonic Life & Times Of Gus Grissom
Even though I worked for NASA for 40 years, I can only view the work Andy does in digital restoration of analog imagery as innovative, creative, and a gift to the world.
The precision, the detail, and the validity of his work on the old film from early human spaceflight is breathtaking to me - such incredible valuable results and contributions to these historic events. 
—
Jim Lewis, Command Recovery Pilot, Liberty Bell 7
After five decades, it's very rare that something comes along from Apollo that genuinely surprises me... but 
this is truly special. It changes everything, in an instant.
—
Mark McCaughrean, Senior Advisor for Science and Exploration, European Space Agency
"It's hard to believe the detail that Andy has pulled out of the old Apollo film, especially the underexposed shots like the one I took of Jim McDivitt that he's used on cover of this incredible book. The first time I saw it I was just blown away, it's just magical. Apollo Remastered is a truly valuable record, and a great contribution to the history of human spaceflight."
—
Rusty Schweickart - Apollo 9 LMP
"In Mission Control, back in the day, imagination pieced together grainy television images, crew voice reports and the flight plan to portray mission events. Now, for the first time, 
Apollo Remastered
 brings the glory of Apollo and the explorers into sharp focus. Fifty years later, I can finally look over the shoulder of Mike Collins and Al Bean and see what they saw... I become part of the experience, as if I were a member of the crew."—
Gene Kranz, Apollo Flight Director
"
Apollo Remastered
is a fine collection of remastered photographs that depicts the real essence of the Apollo program. It brought back many memories of my time during the missions - an incredible book that will surely be enjoyed for many generations to come."—
Jim Lovell, Apollo 13 Commander