I Cook in Color: Bright Flavors from My Kitchen and Around the World (Hardcover)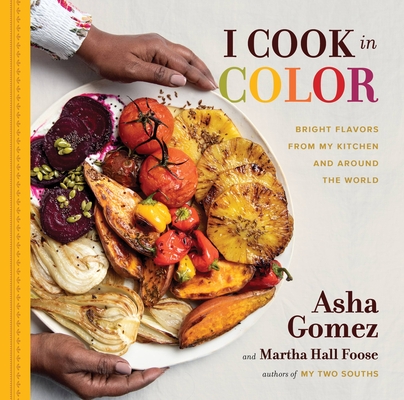 Description
---
Expand your recipe collection with dishes that focus on cross-cultural flavors, rainbows of vegetables, gem-toned desserts, and spice-forward twists from the author of the critically acclaimed cookbook My Two Souths.
Best known for her easy mix of cooking traditions from the American South and her homeland of Kerala in Southern India, Chef Asha Gomez continues to evolve her unique cooking style.
In this next vibrant cookbook, I Cook in Color, Asha embraces dishes from around the globe, celebrating international flavor profiles and the melding of culinary traditions that reflect both her cherished memories of her mother's Kerala kitchen, as well as her extraordinary travel experiences. Recipes include:
Thai Green Papaya Salad with Dried Shrimp
Catalonian Paella
Passion Fruit, Lime & Grapefruit Grouper Ceviche
Grilled Meyer Lemon Chili Corn
Pomegranate & Date Molasses Chicken
Mango Cardamom Cake
About the Author
---
Asha Gomez is the author of the award-winning cookbook My Two Souths: Blending the Flavors of India into a Southern Kitchen, and runs The Third Space, an Atlanta culinary studio where she hosts her streaming cooking classes and YouTube channel Curry and Cornbread. Asha also works as a Global Ambassador for CARE specifically in the area of food insecurity. She's also involved with the James Beard's Foundation's Chef Boot Camp for Policy Change.

Martha Hall Foose is the author of Screen Doors & Sweet Tea: Recipes and Tales of a Southern Cook, the best-selling homage to Southern cooking that won both the James Beard Award for American Cooking and the Southern Independent Booksellers Award. Her other titles include A Southern Course and the upcoming A Good Meal is Hard to Find: Storied Recipes from the Deep South. She lives in Oxford, Mississippi.
Praise For…
---
"The author's sure hand and Kerala roots make for a stunning fusion of culinary traditions."
—
The Washington Post
"It is her command of the Indian spice box that emboldens her to kick up the heat in ways that Emeril never will."
—
The New York Times
"Take one look at Asha Gomez's Instagram feed, and it's easy to want to disappear into her technicolor world filled with stunning floral arrangements and lush platters of food that you can almost smell through the screen. Her approach to life is vibrant and full, and this cookbook shows you how to bring that exuberance into your life via your kitchen. Nothing is boring or monochromatic, and she embraces spices in everything from a seafood-laden paella to a leg of lamb smothered in za'atar and crowned with stewed dried apricots. They say you should 'eat the rainbow'-Gomez will introduce you to colors you didn't even know existed."
—
Khushbu Shah, restaurant editor, Food & Wine
"Over the years, Asha has been my personal guide to a world of flavors and techniques I knew too little about.
I Cook in Color
is packed full of recipes for things you want to be eating right now."—
David Chang, chef and founder of Momofuku
"Gomez's voice, sense of humor, and love of food's place in culture come through in all aspects."
—
Booklist
"Her deep connections to her roots appear in ways subtle and bold - be it the "Asha treatment" she gives a simple slab of wild salmon with a drizzle of mustard seed-spiked olive oil, or a rose-scented pound cake topped with saffron-poached quince honoring the baking prowess of her mother. The common thread that ties this eclectic recipe collection together is the spirit of a chef who can find the bright spot on the gloomiest day by turning on her stove."
—
The Atlanta-Journal Constitution
"Food that remaps the geography of home and heart."
—
Atlanta Journal Constitution
"Drawing on an eclectic palette and knowledge of global cuisines, these recipes will delight food lovers of all stripes and cooks of all skill levels."
—
Publishers Weekly
"As the title suggests, Atlanta chef Asha Gomez's second cookbook is a feast for the eyes....Cooks looking to spice up their kitchens this fall will do no better than this vibrant book."
—
Southern Living
"'I Cook in Color' is a testimonial of love, through food and friends, passed on from generation to generation, from continent to continent."
—
Brekke Fletcher, CNN.com
"Gomez has created a feast for the eyes and a how-to for the world traveler who likes to cook at home.
—
Kendra Nordin Beato, Christian Science Monitor
"The book is a melting pot of all sorts of deliciousness, be it a rich Vidalia Onion Soup with Aged Gruyère, Duck Confit with Pan-Seared Georgia Peaches, or her a Sticky Pandan and Date-Toffee Pudding Cake. Warmth suffuses this book."
—
Better.net