Silk & Venom: Searching for a Dangerous Spider (Hardcover)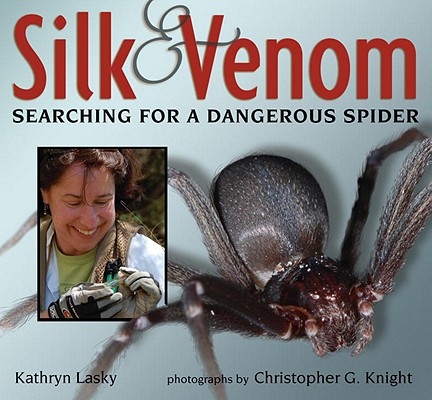 $16.99
Email or call for price.
Description
---
Join a researcher on a passionate hunt for poisonous spiders, captured in the engaging prose and stunning photos of a masterful team.
Love them, hate them spiders are feared and misunderstood by many, but certainly not by biology professor and arachnologist Greta Binford. Eager and willing to share her knowledge, she allowed New York Times best-selling author Kathryn Lasky and noted photographer Christopher G. Knight to accompany her on a trek to the Caribbean in search of the elusive Loxosceles the deadly recluse spider whose venom may hold in its DNA the answer to many scientific questions. We see firsthand her fearless search (sometimes enlisting the help of local schoolchildren), through outdoor markets, garbage dumps, and the desertlike interior of the Dominican Republic. A lively, informative narrative and intimate photos of everything from careful venom-milking in a lab to multicolored spiders in shimmering webs are likely to lure even the most committed arachnophobe.
About the Author
---
Kathryn Lasky writes award-winning books for children across all genres. Her many illustrated nonfiction titles include the Newbery Honor book Sugaring Time as well as One Beetle Too Many: The Extraordinary Adventures of Charles Darwin; Interrupted Journey: Saving Endangered Sea Turtles; and John Muir: America s First Environmentalist. Kathryn Lasky and her husband, Christopher G. Knight, live in Cambridge, Massachusetts.

Christopher G. Knight is a documentary filmmaker as well as photographer. His photographs illustrate Kathryn Lasky s Interrupted Journey: Saving Endangered Sea Turtles and Sugaring Time."