Monstrous Affections: An Anthology of Beastly Tales (Hardcover)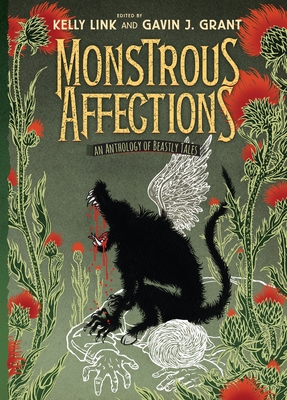 $22.99

Out Of Stock - Can Be Ordered For You. May take extra time.
Description
---
Fifteen top voices in speculative fiction explore the intersection of fear and love in a haunting, at times hilarious, darkly imaginative volume.

Predatory kraken that sing with — and for — their kin; band members and betrayed friends who happen to be demonic; harpies as likely to attract as repel. Welcome to a world where humans live side by side with monsters, from vampires both nostalgic and bumbling to an eight-legged alien who makes tea. Here you'll find mercurial forms that burrow into warm fat, spectral boy toys, a Maori force of nature, a landform that claims lives, and an architect of hell on earth. Through these and a few monsters that defy categorization, some of today's top young-adult authors explore ambition and sacrifice, loneliness and rage, love requited and avenged, and the boundless potential for connection, even across extreme borders.

With monstrous stories by
M. T. Anderson
Paolo Bacigalupi
Nathan Ballingrud
Holly Black
Sarah Rees Brennan
Cassandra Clare
Nalo Hopkinson
Dylan Horrocks
Nik Houser
Alice Sola Kim
Kathleen Jennings
Joshua Lewis
Kelly Link
Patrick Ness
G. Carl Purcell
About the Author
---
Kelly Link and Gavin J. Grant edited the acclaimed anthology Steampunk! They also started a zine, founded an independent publishing house, own two letterpresses, and edited the fantasy half of The Year's Best Fantasy and Horror for five years. Kelly Link is the author of three acclaimed short story collections, and her award-winning stories have appeared in many anthologies. Gavin J. Grant has published numerous articles and short stories. They live in Northampton, Massachusetts, with their daughter, Ursula.
Praise For…
---
Luminous... There are wonderful stories... M. T. Anderson's "Quick Hill" is a tour de force of contemporary short fiction. It does, as well as anything I've read recently, what scary stories are supposed to do: It says what we feel, but cannot say.
—New York Times Book Review

From vampires to ghosts and from strange creatures made of mercury to half-harpies, these beasts will broaden readers' perspectives. Teens will never think about monsters in the same way again. Long after the last page is turned, these tales will linger in readers' brains, in their closets, under their beds, and in the shadows.
—School Library Journal (starred review)

Link and Grant present an engrossing, morally complex anthology of 15 stories centered on the seemingly antagonistic concepts of monsters and love. ... All of the entries are strong, and many are splendid.
—Publishers Weekly (starred review)

The authors of these tales brilliantly intertwine morally charged issues with elements of horror writing that engage the reader. ... This is a must-read for anyone who enjoys horror fiction.
—Library Media Connection

A deliciously gory collection of fifteen original stories... While the theme is certainly familiar, the diversity of interpretations of monsterhood is an asset, and the book sets a fresh and amusing note with the opening pop quiz that assesses readers' views of monsters. ... Fans will be happy to find a well-edited, sharp collection of new stories about their favorite topic that covers both the creepy and alluring elements of monsters.
—Bulletin of the Center for Children's Books

Short stories with otherworldly creatures may be a dime a dozen, but rarely do they offer such nuanced scope. Link and Grant ... know their way around excellent short fiction, and their editorial skills are on display here. From the light(ish) and delightful to the subversively unromantic, from humor to horror, each entry both tells a good story and says something about monstrousness. ... An anthology of riches, even if they aren't always fair of form.
—Kirkus Reviews

Link and Grant clearly spent a lot of time building this collection, which includes a graphic entry, and consequently none of the stories disappoint. Authors such as Cassandra Clare and Patrick Ness—along with the monster dripping blood on the cover—will draw in readers eager for creepy, atmospheric tales.
—Booklist

A delightful (often frightful) anthology of short fantasy fiction. ... The strong writing brims with misdirection, humor, horrors and twisty endings. ... This substantial volume will provide older teens—and adults—with hours of thoroughly enjoyable reading. A monstrously entertaining anthology.
—Shelf Awareness

Provocative. One would expect no less from veteran anthology editors Kelly Link and Gavin J. Grant. ... Beautiful language.
—Boston Globe

For those who like a mix of fantasy and science fiction, "Monstrous Affections" is a stunning collection of original tales whose title explains it all. Who cares if it's nominally a young adult book — it's the best collection of monster stories of the year, with some unusual ideas as to what really makes a monster.
—Chicago Tribune