Rabbit and Robot and Ribbit (Candlewick Sparks) (Paperback)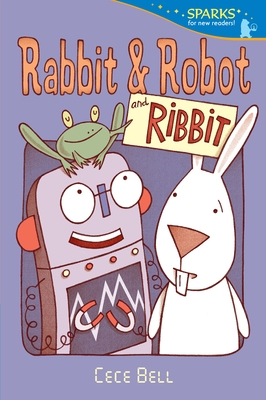 $4.99

Temporarily Out Of Stock - Can Be Ordered For You, Takes Extra Time.
Description
---
"A fun and pleasing friendship story for young readers learning that three doesn't have to be a crowd." — School Library Journal

Rabbit is excited. He is going to surprise his good friend Robot at home! But Robot is already engrossed in a game of checkers with another friend, Ribbit. Now Rabbit is the one who is surprised, and a bit jealous. While Robot thinks everything Ribbit says is funny, all Rabbit hears is "ribbit." And Ribbit eats flies with her popcorn. Gross! When Rabbit and Ribbit get mad because they both want to be Cowboy Jack Rabbit, Robot's Emotion Decoder overheats, leaving him out of commission. Can Rabbit and Ribbit find a way to work together to revive their friend?
About the Author
---
Praise For…
---
The book bursts with wordplay, heart and humor...The Rabbit and Robot books are perfect for kids who like their stories with a side of silliness.
—The New York Times Book Review

Words and pictures provide ample humor throughout the story, with details that are sure to provoke laughter, such as Robot's addition of flies to movie popcorn in order to accommodate Ribbit's tastes...Engrossing!
—Kirkus Reviews

The breezy message about jealousy is pitch-perfect for elementary-schoolers navigating new friendships. Meanwhile, Bell's cartoonish yet highly expressive illustrations add helpful visual cues to the straightforward text, and the episodic chapters—all cleverly titled "Ribbit"—are tasty morsels for emerging readers.
—Booklist

Easy text will draw in emerging readers as well as those ready for a simple chapter book much like Arnold Lobel's "Frog and Toad" series. The digital illustrations are expressive and joyful and will keep readers engaged in the plot. A fun and pleasing friendship story for young readers learning that three doesn't have to be a crowd.
—School Library Journal