Windwitch: The Witchlands (Hardcover)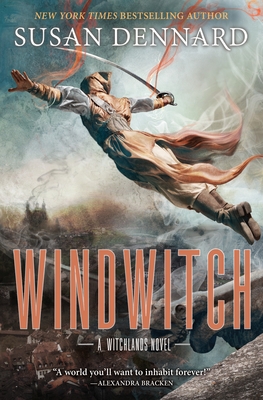 Other Books in Series
This is book number 2 in the The Witchlands series.
Description
---
Susan Dennard returns with a follow up to New York Times bestselling novel Truthwitch.

After an explosion destroys his ship, the world believes Prince Merik, Windwitch, is dead. Scarred yet alive, Merik is determined to prove his sister's treachery. Upon reaching the royal capital, crowded with refugees, he haunts the streets, fighting for the weak—which leads to whispers of a disfigured demigod, the Fury, who brings justice to the oppressed.

When the Bloodwitch Aeduan discovers a bounty on Iseult, he makes sure to be the first to find her—yet in a surprise twist, Iseult offers him a deal. She will return money stolen from him, if he locates Safi. Now they must work together to cross the Witchlands, while constantly wondering, who will betray whom first?

After a surprise attack and shipwreck, Safi and the Empress of Marstok barely escape with their lives. Alone in a land of pirates, every moment balances on a knife's edge—especially when the pirates' next move could unleash war upon the Witchlands.

Sometimes our enemies are also our only allies…
About the Author
---
Susan Dennard has come a long way from small-town Georgia. Working in marine biology, she got to travel the world -- six out of seven continents (she'll get to Asia one of these days!) -- before she settled down as a full-time novelist and writing instructor. She is the author of the Something Strange and Deadly series, as well as the Witchlands series, which includes the New York Times bestselling Truthwitch and Windwitch. When not writing, she can be found hiking with her dogs, slaying darkspawn on her Xbox, or earning bruises at the dojo.
Praise For…
---
Praise for the Witchlands Series:

"Susan Dennard has worldbuilding after my own heart. It's so good it's intimidating."—Victoria Aveyard, #1 New York Times bestselling author of Red Queen

"A world you'll want to inhabit forever!"—Alexandra Bracken on Windwitch

"A richly imagined magical world, ruthless politics, steamy romance, and characters who grab you and won't let go."—Cinda Williams Chima, New York Times bestselling author, on Truthwitch

"Featuring vibrant characters and an innovative system of magic...a fast-paced adventure and a wonderful tribute to the power of the binding ties of friendship."—Jacqueline Carey, New York Times bestselling author, on Truthwitch

"A cake stuffed full of your favorite fantasy treats: highway robbery, swordplay, deep friendships, treachery, magic, piracy on the high seas, and romance. This book will delight you."—Robin Hobb, New York Times bestselling author, on Truthwitch

"[Dennard] sets scenes so skillfully that the descriptions of the geography become immersive, and the characters continually develop along familiar lines. The plentiful action in this exciting fantasy almost makes it feel like one is in a multiplayer online game."—Booklist on Windwitch

Dennard's rich descriptions, insightful characterizations, and breathtaking action sequences will keep readers on their toes."—Publishers Weekly, starred review on Truthwitch

"Intense friendships and burgeoning romances…Epic adventure and steamy smooches make for a crowd-pleasing formula."—Kirkus Reviews on Truthwitch

"Dennard has upped her game."—Deseret News on Windwitch

"5 stars: Emotionally charged...with complicated politics and personal relationships that are full of surprises."—RT Book Reviews, on Windwitch

"Susan Dennard is taking the reins of the genre that is fantasy, making it apparent that she is here to stay and I cannot wait for more of her amazing writing in the future of this series."—TeenReads on Windwitch