Chasing the Devil at Foggy Bottom: The Future of Religion in American Diplomacy (Hardcover)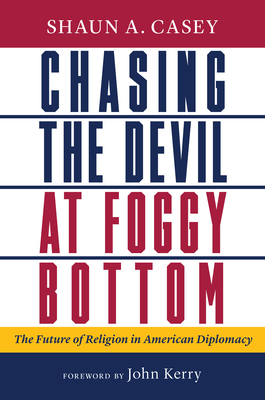 Description
---
Understanding the role of religion in global politics is crucial for effective diplomacy.
 
Many American policy makers are squeamish about religion's role in diplomacy. Nevertheless, religion plays a crucial and complex part in global affairs, such as in sustainable development, various human rights issues, and fomenting and mitigating conflict. Shaun A. Casey, the founding director of the US Department of State's Office of Religion and Global Affairs, makes a compelling case for the necessity of understanding global religion in Chasing the Devil at Foggy Bottom.  
  
In this fresh and provocative narrative, Casey writes frankly about his work integrating sophisticated, research-driven policy into the State Department under Secretary of State John Kerry. Their new strategy went beyond older paradigms that focused myopically on religious freedom or countering violent extremism. Such reductive approaches, Casey insists, cost thousands of lives and trillions of dollars in the US's ill-fated invasion of Iraq in 2003. Witty and astute, Casey recounts his team's challenges in DC politics as well as in the major global events of his tenure, including climate change, the rise of ISIL, and the refugee crisis. 
On a global stage with higher stakes than ever, effective diplomacy is imperative. Yet in this critical moment, the United States's reputation has faltered.
Chasing the Devil at Foggy Bottom
offers a path forward to better foreign policy.