An Indigenous Peoples' History of the United States for Young People (ReVisioning History for Young People #2) (Paperback)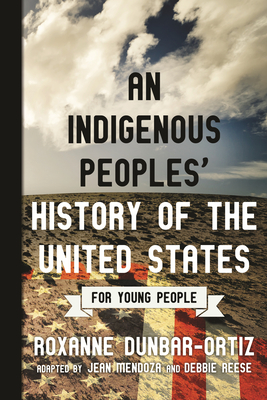 Description
---
2020 American Indian Youth Literature Young Adult Honor Book

2020 Notable Social Studies Trade Books for Young People,selected by National Council for the Social Studies (NCSS) and the Children's Book Council


2019 Best-Of Lists: Best YA Nonfiction of 2019 (Kirkus Reviews) · Best Nonfiction of 2019 (School Library Journal) · Best Books for Teens (New York Public Library) · Best Informational Books for Older Readers (Chicago Public Library)
Spanning more than 400 years, this classic bottom-up history examines the legacy of Indigenous peoples' resistance, resilience, and steadfast fight against imperialism.

Going beyond the story of America as a country "discovered" by a few brave men in the "New World," Indigenous human rights advocate Roxanne Dunbar-Ortiz reveals the roles that settler colonialism and policies of American Indian genocide played in forming our national identity.

The original academic text is fully adapted by renowned curriculum experts Debbie Reese and Jean Mendoza, for middle-grade and young adult readers to include discussion topics, archival images, original maps, recommendations for further reading, and other materials to encourage students, teachers, and general readers to think critically about their own place in history.
About the Author
---
Roxanne Dunbar-Ortiz, a New York Times best-selling author, has been active in the international Indigenous movement for more than 4 decades and is known for her lifelong commitment to national and international social justice issues. She lives in San Francisco.

Debbie Reese is an educator and founder of American Indians in Children's Literature (AICL). She is tribally enrolled at Nambe Owingeh, a federally recognized tribe, and grew up on Nambe's reservation. She holds a PhD in Curriculum and Instruction from the University of Illinois.

Jean Mendoza is a curriculum specialist focusing on the representation of Indigenous peoples in children's and young adult literature. She holds a PhD in curriculum and instruction and an M.Ed in early childhood education from the University of Illinois at Urbana-Champaign.
Praise For…
---
"An important corrective to conventional narratives of our nation's history . . . . An accessible, engaging, and necessary addition to school libraries and classrooms. An excellent read, dismantling American mythologies and fostering critical reasoning about history and current events."
—Kirkus Reviews, Starred Review

"This adaptation of An Indigenous Peoples' History of the United States (2014) should be required reading for all middle and high schoolers—and their teachers . . . . There is much to commend here: the lack of sugar-coating, the debunking of origin stories, the linking between ideology and actions, the well-placed connections between events past and present, the quotes from British colonizers and American presidents that leave no doubt as to their violent intentions . . . . The resistance continues, and this book urges all readers to consider their own roles, whether as bystanders or upstanders."
—Booklist, Starred Review

"Dunbar-Ortiz's narrative history is clear, and the adapters give readers ample evidence and perspective to help them to engage with the text. A highly informative book for libraries serving high school students."
—School Library Journal, Starred Review

"Gripping, tightly written, and packed with facts traditional textbooks and historical accounts neglect to cover."
—Shelf Awareness

"Wide-ranging and politically engaged . . . a valuable resource."
—The Horn Book

"This is a desperately needed corrective to existing histories for young people, and its combination of breadth and passion will spur both reflection and emotion."
—The Bulletin of the Center for Children's Books

"This is the book I wish I'd had when I started teaching. An Indigenous Peoples' History of the United States for Young People represents a fundamental challenge to the textbooks that celebrate 'liberty,' 'freedom,' and the 'rise of the American nation' but fail to recognize the humanity—or often even the existence—of the Indigenous peoples who were here first, and are still here. Our students will see the history of this country much more clearly when we put Indigenous people's lives at the center."
—Bill Bigelow, curriculum editor, Rethinking Schools, and codirector, Zinn Education Project