Ray Bradbury's Fahrenheit 451: The Authorized Adaptation (Ray Bradbury Graphic Novels) (Paperback)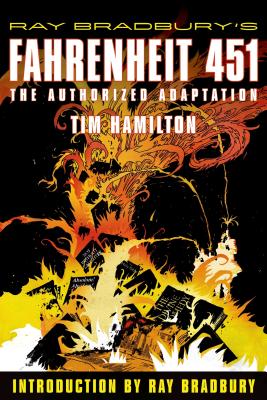 $18.99

Out Of Stock - Can Be Ordered For You. May take extra time.
Description
---
A Graphic Adaptation

An HBO Original Movie starring Michael B. Jordan (Black Panther), Sofia Boutella (Star Trek: Beyond), and Michael Shannon (The Shape of Water).

An Eisner Award Nominee

"Monday burn Millay, Wednesday Whitman, Friday Faulkner, burn 'em to ashes, then burn the ashes."

For Guy Montag, a career fireman for whom kerosene is perfume, this is not just an official slogan. It is a mantra, a duty, a way of life in a tightly monitored world where thinking is dangerous and books are forbidden.

In 1953, Ray Bradbury envisioned one of the world's most unforgettable dystopian futures, and in Ray Bradbury's Fahrenheit 451, the artist Tim Hamilton translates this frightening modern masterpiece into a gorgeously imagined graphic novel. As could only occur with Bradbury's full cooperation in this authorized adaptation, Hamilton has created a striking work of art that uniquely captures Montag's awakening to the evil of government-controlled thought and the inestimable value of philosophy, theology, and literature.

Including an original foreword by Ray Bradbury and fully depicting the brilliance and force of his canonic and beloved masterwork, Ray Bradbury's Fahrenheit 451 is an exceptional, haunting work of graphic literature.
About the Author
---
Ray Bradbury (1920-2012) was one of science fiction's greatest luminaries. The author of such classic, important works as Fahrenheit 451, The Martian Chronicles, and Something Wicked This Way Comes, Bradbury was honored in 2007 with a Pulitzer citation "for his distinguished, prolific and deeply influential career as an unmatched author of science fiction and fantasy." Other distinctions include a 1954 honor from the National Institute of Arts and Letters, a Medal for Distinguished Contribution to American Letters from the National Book Foundation in 2000, and the National Medal of Arts, awarded by President George W. Bush and Laura Bush in 2004. He was also an Emmy Award-winning screenwriter. Born in Waukegan, Illinois in 1920, Bradbury spent most of his life in Los Angeles, where he passed away in 2012.

Tim Hamilton has produced art for The New York Times Book Review, Cicada magazine, King Features, BOOM Studios, Mad Magazine, and Serializer.net. He adapted Robert Louis Stevenson's Treasure Island into a graphic novel for Puffin Graphics.
Praise For…
---
"A graphic adaptation of a novel like Fahrenheit 451 is more than just an illustrated version of the original . . . The book has the look of a classic comic. Hamilton deliberately limited his color choices, so much of the book is in the muted tones of blue, green and gray. But that is punctuated by the fire scenes, which reflect some of the most memorable passages in the novel . . . Apart from the images, Hamilton manages to retain much of the power of Bradbury's original words." —Lynn Neary, NPR

"If you know the novel, you'll still be thrilled by Tim Hamilton's artwork in this new version, which combines a comic-book clarity--the panels are simple and straightforward, without the distraction of a lot of visual razzmatazz--with a deep, humane rendering of the novel's theme." —Julia Keller, Chicago Tribune

"Vibrant and vital . . . [Hamilton] saturates the story with his own evocative energy and vision. He doesn't use all of Bradbury's words, instead allowing the story's inherent visual propulsion to add even more depth and texture to an already-indelible tale . . . Hamilton's arousing adaptation doesn't just update Bradbury's novel. It primes Fahrenheit 451, long a staple of high school and college reading lists, for rediscovery." —Renee Graham, The Boston Globe

"[Hamilton] boasts the tools--and chops--to take on a Bradbury classic that's already tripped up the greats (like François Truffaut). He turns in a vivid and relevant meditation that will surely become a resurgent favorite of nervous librarians everywhere." —Richard Pachter, The Miami Herald

"Tim Hamilton's illustrations have given new life to this venerable work." —Nick Smith, ICv2

"Turning Ray Bradbury's Fahrenheit 451 into a graphic novel couldn't have been an easy task. After all, the action in the veteran sci-fi author's 1953 novel . . . largely consists of characters sitting around a fire station talking about books, characters sitting around a suburban living room talking about books, and characters sitting around a twilit campfire talking about books. Fortunately, Tim Hamilton proves himself up to the task of making such scenes visually arresting, through stark shadows and subtly rendered facial expressions." —John Lucas, The Georgia Straight (Vancouver)

"Illustrated by Tim Hamilton, whose simple style can carry a threat all its own, this version is likely to take off." —Kel Munger, Sacramento News Review

"If you enjoyed watching the apocalyptic Watchmen, or Frank Miller's Sin City and The Spirit, you really must hustle to your nearest book store to pick up a copy of the new Fahrenheit 451 . . . With its sharp dialogue, powerful message, and stunning imagery, Fahrenheit 451 burns white hot." —Nylon Guys

"The intellectually and viscerally engaging story is quite effective in graphic form. Hamilton's consistently muted color palette of blacks, blues, and grays sustains the overarching brooding mood and renders the bright flashes of red and orange flames all the more startling in contrast. Fans of 451 should find this version illuminating, and those who haven't read the original novel may seek it out after reading this fine adaptation." —John Edward Royall, Charleston City Paper

"If you want a condensed classic, with pictures, this authorized version fits the bill. The art has a dark, flattened feel and stays low-key, only striking a strong note in the unnatural, spiky rendering of flames." —Alex Good, Waterloo Region Record