Nurse, Soldier, Spy: The Story of Sarah Edmonds, a Civil War Hero (Hardcover)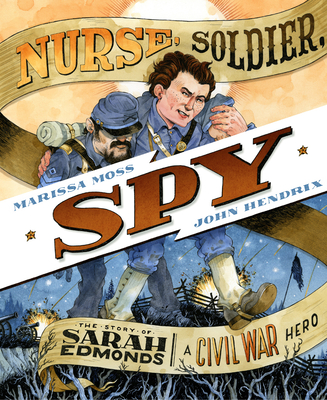 $19.95

Backordered - Not Currently Available.
Description
---
A thrilling picture book biography of Civil War soldier Sarah Emma Edmonds, from award-winning creators Marissa Moss and John Hendrix

When Frank Thompson sees a recruitment poster for the new Union army, he's ready and willing to enlist. Except Frank isn't his real name. In fact, Frank is really Sarah Emma Edmonds, in disguise.

Only nineteen years old, Sarah has already been dressing as a man for three years and living on the run in order to escape an arranged marriage. She's tasted freedom, and as far as she's concerned, there's no going back.

Eager to fight for the North during the Civil War, Sarah joins a Michigan infantry regiment. She excels as a soldier and even takes on the grueling task of nursing the wounded. Because of her heroism, she is asked to become a spy, cross enemy lines, and infiltrate a Confederate camp. For her first mission, Sarah must once again disguise herself and rely on the kindness of enslaved people to help her do her job.

This incredible true story of a brave young woman who makes an unlikely choice to fight for her country is one that should not be lost to history.
About the Author
---
Marissa Moss is the bestselling author of the Amelia series, Barbed Wire Baseball, and Nurse, Soldier, Spy. She lives in Berkeley, California.

John Hendrix is a New York Times bestselling author and illustrator. His books include The Faithful Spy: Dietrich Bonhoeffer and the Plot to Kill Hitler, named a Best Book of 2018 by NPR, and Drawing Is Magic: Discovering Yourself in a Sketchbook. His award-winning illustrations have appeared on book jackets and in newspapers and magazines. He is chair of the MFA Illustration and Visual Culture program in the Sam Fox School of Design & Visual Arts at Washington University in St. Louis. Hendrix lives in Webster Groves, Missouri.
Praise For…
---
"The incredible story of how Sarah Edmonds becomes Frank Thompson is full of adventure, bravado and pathos."
— San Francisco Chronicle

"Readers won't stop until the last page of Marissa Moss' exciting Civil War story about Sarah Edmonds' life as a man in the Union Army. Vivid illustrations by artist John Hendrix match Moss' exciting account of Sarah's life in the Army."
— Sacramento Bee

**STARRED REVIEW**
"Hendrix's artwork is, as usual, a showstopper, and his bold caricatures convey Edmonds's strength and determination. Moss delivers a riveting narrative, making it clear that Edmonds was fighting for more than one kind of freedom."
— Publishers Weekly, starred review

"The pen-and-ink with acrylic wash illustrations are full of vibrant detail. Hendrix presents a meticulous view of military life, including army camp layouts and fortifications. Hand-drawn typography highlights important or humorous points in the text and adds even more visual interest."
— School Library Journal

"Hendrix's art emphasizes the horror and drama of war. Using hand-lettered text reminiscent of broadsides of the time, he visually shouts danger to the reader when tension is the highest."
— The Horn Book

"In ink-and-wash illustrations, Hendrix again displays his knack for visual narrative. The aerial view of Edmonds approaching the Confederate camp is particularly effective. This large-format picture book illustrates Edmonds' courage and determination while conveying a good deal of information in a highly readable way."
— Booklist

"Admirable and enlightening. Moss is a lively prose writer, and Hendrix's illustrations inject humor into what is actually a serious subject."
— The New York Times

**STARRED REVIEW**
"Boldly illustrated. The text is full of interesting details. This book strikes a fine balance which conveys the horrors of the Civil War without portraying too much blood and violence for elementary readers. A very useful and researchable picture book."
— Library Media Connection, starred review