Frank Was a Monster Who Wanted to Dance (Hardcover)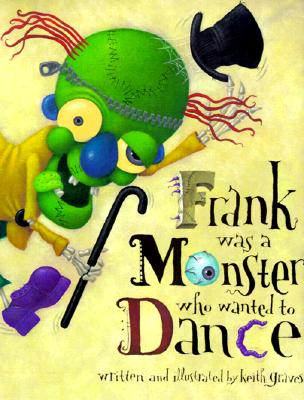 Description
---
Frank was a monster who wanted to dance. So he put on his hat, and his shoes made in France...and opened a jar and put ants in his pants! So begins this monstrously funny, deliciously disgusting, horrifyingly hilarious story of a monster who follows his dream. Keith Graves' wacky illustrations and laugh-out-loud text will tickle the funny bone and leave readers clamoring for an encore.
About the Author
---
Keith Graves is the pen name of an alien disguised as a large parakeet. He was last spotted in Texas with his lovely three-eyed wife and twin Martians. This is his second book for earthlings.
Praise For…
---
Reviews From:
THE BULLETIN
PUBLISHERS WEEKLY

of The Center for Children's Books
By Janice Harrington
When Frank (as in Frankenstein) goes dancing, his lively movements make him fall to pieces, whereupon his previously appreciative audience runs screaming from the theater. A humorous rhyming text immediately engages readers: "Frank was a monster who wanted to dance./ 'I know I could boogie if they gave me a chance.'/ So he put on his hat and his shoes made in France/ and opened a jar and put on his pants." In acrylic and colored pencil, Graves' cartoon-like illustrations, stylistically reminiscent of Lane Smith, extend the text with such details as Frank's mouse slippers (complete with teeth), a bottle of "Le Smell," and a box of "Le Shooz." Graves' palette (purple-grape, electric blue, and lime-green with cherry-red highlights) makes the details pop without overwhelming the eye. Young listeners will respond to the comedy, the catchy rhythm, and especially the yuck factor induced by Frank's dancy disintegration.

Newcomer Graves pays generic, goofy homage to Frankenstein and to 1960s-era hot-rod art. He goes heavy on the purple, electric blue and Astroturf green in his polished, nearly 3D compositions of acrylic and colored pencil. Even the hand-lettered text, with its occasional incorporation of worms, bulging eyes, etc., contributes to the expansion of the punchline, which will likely hit primary graders' funny bones.

In rhyme and gloriously putrid color, we follow Frank the monster as he achieves his dream: "I know I could boogie if they gave me a chance," he muses, sitting at home in his pants, and proceeds to the theater. The audience loves him, but his head, which looks like an acid-green baseball with a zipper, comes undone, spilling out his purplely brain. The grossed-out audience departs as Frank loses an arm and an eyeball. Just the ticket for a collection that might be leaning too much toward the sweet and proper. This is a close cousin to Boogi Bones, written by Elizabeth Loredo and illustrated by Kevin Hawkes.