Row, Row, Row Your Boat (Jane Cabrera's Story Time) (Paperback)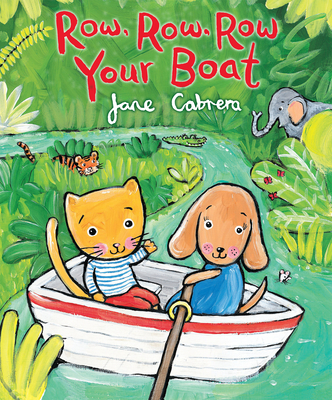 Description
---
Read, row, and roar along - a newly imagined favorite will have everyone singing.

In this vibrantly-painted rain forest, squeak, bark, and chatter along with a kitten and puppy rowing their way down the stream. Uncover one delightful animal surprise after another. Sheet music with guitar chords, along with Cabrera's jaunty new verses, is included.

Jane Cabrera's Story Time celebrates children's best-loved read along nursery rhymes and songs. These interactive favorites are given a new twist by award-winning artist Jane Cabrera and feature her bold, bright, kid-friendly illustrations.

Don't miss the other delightful nursery-rhyme titles, including Here We Go Round the Mulberry Bush, If You're Happy and You Know It,  and One, Two, Buckle My Shoe.
About the Author
---
Jane Cabrera is the author and illustrator of many beloved books for young children, including Baa, Baa, Black Sheep; There Was an Old Woman Who Lived in a Shoe; and Twinkle, Twinkle, Little Star. She is best known for her exuberant versions of classic nursery rhymes and her bright, kid-friendly paint and collage illustrations. Publishers Weekly has said "her style exudes the joy of creation." She lives beside Dartmoor National Park in South Devon, England.
Praise For…
---
"Nursery rhymes and cheerful ditties have become Cabrera's forte. . . . This makes a fine addition to storytime collections where song variations are ever popular."—Booklist
 
"Though the animals' expressions incline toward the cartoonishly cutesy, there is plenty of usability here and a whole lot of kid appeal, particularly with the combination of sound effects and large-scaled, boldly hued illustrations that work well on a storytime carpet. The endpapers, which show the boat's entire route from start to finish, are particularly handy for encouraging young listeners to make predictions, and the more musically inclined will appreciate the notation at the end of the tale."—The Bulletin of the Center for Children's Books
 
"Cabrera transmutes the simple children's song into a participatory singalong with a nod to wildlife diversity."—Kirkus Reviews