Listen: The Stages and Studios That Shaped American Music (Hardcover)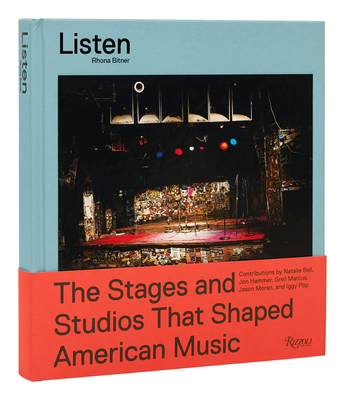 Description
---
An extraordinary archive of the most iconic sites on the American musical landscape.

Prompted by the closing of New York's famed CBGB, Rhona Bitner embarked on a thirteen-year journey to photograph 403 venues across twenty-six states and eighty-nine cities—the studios, concert halls, arenas, high schools, bars, ballrooms, prisons, and fields where the most memorable songs were inspired, recorded, performed, and listened to. Close to 300 of those photographs are included in this book.

Featuring Jimi Hendrix's recording studio, Elvis's Graceland music room, Aretha Franklin's family church, the Georgia auditorium where fourteen-year-old Little Richard was discovered and Ray Charles, Otis Redding, James Brown, and Sam Cooke took the stage, and the high school where a young Bob Dylan first performed, this book showcases each locale that played a seminal role in the soundtracks of generations. While Bitner recorded these sites empty and silent, the reverberations of fabled tunes still echo from within their walls. With informative texts on each location and archival images of performers recording or playing in the venues, this encyclopedic collection is a must-have addition to the libraries of music aficionados everywhere.

About the Author
---
Rhona Bitner is an artist whose photographs are in the collections of the Whitney Museum of American Art, the Art Institute of Chicago, and the Pinault Collection, among others. She lives and works between New York and Paris. Iggy Pop is a legendary musician known as the "godfather of punk." Éric Reinhardt is a French writer and editor. Natalie Bell is the exhibitions curator at MIT's List Visual Arts Center. Jon Hammer is a writer, artist, and rhythm guitarist. Greil Marcus is a music critic, journalist, and author. Jason Moran is a jazz pianist, composer, and performance artist.
Praise For…
---
"From 2006 to 2019, photographer Bitner crisscrossed the U.S. documenting existing and defunct music locales—arenas and studios, clubs and concert halls, ballrooms and bars. Some 300 of those photos are in this book; locations include Van Gelder Studios, where John Coltrane, Herbie Hancock, Sonny Rollins, and many other jazz artists recorded seminal albums; and the site of the former Mabuhay Gardens, a Filipino restaurant and nightclub that became a hub for the early West Coast punk scene." —PUBLISHER'S WEEKLY

"Sound engineers refer to it as "room tone": the unique sonic imprint a space emits when no one is talking or moving around. LISTEN (Rizzoli, 271 pp., $65), a collection of striking photos by Rhona Bitner, represents a visual celebration of room tone. For years, Bitner has traveled the country capturing the vibe of recording studios and concert halls — from the Apollo and the Bitter End in New York to the Hollywood Palladium and the Hollywood Bowl — when there are no performers onstage and no audience to cheer them on. "Here are the ghost ships of American music," Iggy Pop writes in the foreword. You mean these are pictures of silence? Well, it's more complicated than that — and more surprising. Here's a living room in Washington State, decorated with taxidermy and a rust-hued carpet, where the band that would become Nirvana played publicly for the first time. Here's a high school auditorium in Minnesota where a kid who would become Bob Dylan covered Little Richard at a talent show and was shut down by the principal. Isaac Hayes, the Staple Singers and Big Star summoned angels in an unexpectedly grand sanctuary of Ardent Studios in Memphis, while Iggy & the Stooges raised hell at the Grande Ballroom in Detroit, a space that's now, as Iggy puts it, "just a pile of frightening rubble in a dark catacomb." Bitner's photographs give us a phantom history of American sound from Duke Ellington to the White Stripes, but what you hear depends on the room tone within your own mind." —NEW YORK TIMES BOOK REVIEW

"Already thinking about your holiday-giving ahead? Listen: The Stages and Studios That Shaped American Music might be a thoughtful gift for your own aficionado of American music, who appreciates its colorful history and significant sense of place...Pitch perfect collaboration: Natalie Bell (art world curator), Jon Hammer (writer, researcher, painter, musician), Greil Marcus (author, music journalist, cultural critic) and Jason Moran (jazz pianist, composer, educator) also contributed evocative, enlightening commentary to the book. Editing was finessed by Éric Reinhardt (novelist, publisher), who oversaw crisp, detail-rich annotations about each venue, which are set apart from Bitner's photographs, on contrasting paper stock, as a helpful organizing format. In addition, dozens of lively images of famous, beloved musicians, songwriters, singers and producers (sourced from other photographers and archives) . . . are included, peppering the pages with human vitality." —FORBES

"Certain venues loom large in music history — and that can include spaces as disparate as the Blue Note or 924 Gilman. An increasing number of books are giving legendary venues their due, and Listen — a new collection of photos of spaces that played a big role in musical history — uses that history to create a work of art all its own." —INSIDE  HOOK

Holiday gift guide: "Listen: The Stages and Studios that Shaped American Music ($65) does something similar: Photographer Rhona Bitner spent 13 years shooting not music but its adjacent legacy, auditoriums and open fields where music history happened. Bronzeville's 708 Club, Uptown's Aragon Ballroom, the high school stage where Bob Dylan first played. Each image is empty of people, and full of ghosts." —CHICAGO TRIBUNE