Snacks: A Canadian Food History (Paperback)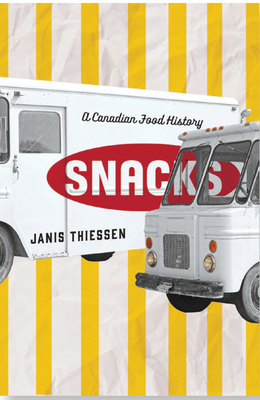 $31.95
Temporarily Out Of Stock - Can Be Ordered For You, Takes Extra Time.
Description
---
Snacks is a history of Canadian snack foods, of the independent producers and workers who make them, and of the consumers who can't put them down. Historian Janis Thiessen profiles several iconic Canadian snack food companies, including Old Dutch Potato Chips, Hawkins Cheezies, and chocolate maker Ganong. These companies have developed in distinctive ways, reflecting the unique stories of their founders and their intense connection to specific locations. These stories of salty or sweet confections also reveal a history that is at odds with popular notions of "junk food." Through extensive oral history and archival research, Thiessen uncovers the roots of our deep loyalties to different snack foods, what it means to be an independent snack food producer, and the often quirky ways snacks have been created and marketed. Clearly written, extensively illustrated, and lavish with detail about some of Canadians' favorite snacks, this is a lively and entertaining look at food and labor history.
 
About the Author
---
Janis Thiessen is an Associate Professor of History and Associate Director of the Oral History Centre at the University of Winnipeg.
Praise For…
---
"Thiessen's book is a lively and revelatory work of food history. It's also an antidote to much of the moralistic writing on these so-called 'junkfoods' that have, until now, focused mostly on the health risks associated with snacks like chips, cheezies, chocolates and candies. Instead, Thiessen provides a compelling and unique study of not just snack food consumers but also the farmers, factory workers and business owners responsible for producing some of Canada's most popular guilty pleasures."
– Ian Mosby, author of Food Will Win the War