Other Birds: A Novel (Hardcover)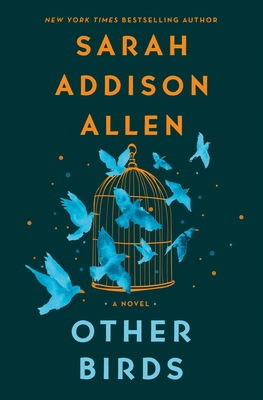 $27.99

Pre-Order Now! Please Place On A Separate Order From Other Purchases.
Description
---
From Sarah Addison Allen, the New York Times bestselling author of Garden Spells, Other Birds is an enchanting tale filled with magical realism and moments of pure love that won't let you go.

Between the real and the imaginary, there are stories that take flight in the most extraordinary ways. Right off the coast of South Carolina, on Mallow Island, The Dellawisp sits—a stunning cobblestone building shaped like a horeshoe and named after the tiny turquoise birds who, alongside its human tenants, inhabit an air of magical secrecy.

When Zoey comes to claim her deceased mother's apartment on Mallow Island, she meets her quirky and secretive neighbors, including a girl on the run, two estranged middle-aged sisters, a lonely chef, a legendary writer, and three ghosts. Each with their own story, Each with their own longings. Each whose ending isn't written yet.
About the Author
---
SARAH ADDISON ALLEN is the New York Times bestselling author of Garden Spells, The Sugar Queen, The Girl Who Chased the Moon, The Peach Keeper, and Lost Lake.  She was born and raised in Asheville, North Carolina.
Praise For…
---
"A lyrical mystery that embraces letting go and living freely." --Kirkus

"Languid and peaceful, gentle and comforting, Allen's newest showcases her talent for tender stories of near magic. Her fans will be lining up for this." --Library Journal

"This story is so magical, beautiful and wise, with a wonderful cast of eclectic characters, and even a few ghosts. It filled my heart." -- Clare Pooley, New York Times bestselling author of THE AUTHENTICITY PROJECT

"A master of her craft, Sarah Addison Allen draws you in with her whimsy and poetic language, only to lay bare the deep emotional truths of being human. Other Birds captivated me by its utter uniqueness. Is it a ghost story? A fairytale about a girl and her imaginary pigeon? A character study of a motley crew of hard-knocks survivors? It is all these things—along with being one of my favorite books of the year." -- Colleen Oakley, bestselling author of THE INVISIBLE HUSBAND OF FRICK ISLAND

"For her latest treasure of a tale, Allen has concocted a mesmerizing cast of characters, all with mysterious pasts and quiet secrets, and placed them in a dreamy Southern resort town famous for its marshmallow candy. It's a story of community, forgiveness, and the myriad ways the past haunts the present. Absolutely luscious and a true page-tuner."
—Fiona Davis, New York Times bestselling author of The Lions of Fifth Avenue

"With a dash of her signature magic, Allen dishes up a touching story that hits the sweet spot between heartache and healing. Set in an atmospheric island town, Other Birds interlaces the disappointments and dreams of a group of creative, lonely people who have more in common than they know. And that's the real magic in this story: the human ability to connect with people and places in meaningful ways that transform our lives."
—Glendy Vanderah, best-selling author of Where the Forest Meets the Stars and The Light Through the Leaves

"Oh, joy of joys! A new book by Sarah Addison Allen, and Other Birds is her best yet! Dark and sweet, brutal and wise, full of delectable food and plenty of meddling ghosts, and soaked with an abiding tenderness and hope. One of my favorite books this year." —Barbara O'Neal, author of Write My Name Across the Sky and When We Believed in Mermaids