The Shadows Between Us (Hardcover)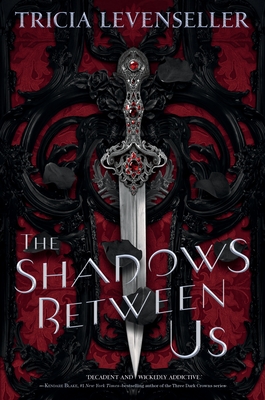 $17.99

Temporarily Out Of Stock - Can Be Ordered For You, Takes Extra Time.
Description
---
Tricia Levenseller, author of Daughter of the Pirate King, is back with an epic YA tale of ambition and love in The Shadows Between Us…

"They've never found the body of the first and only boy who broke my heart. And they never will."

Alessandra is tired of being overlooked, but she has a plan to gain power:
1) Woo the Shadow King.
2) Marry him.
3) Kill him and take his kingdom for herself.

No one knows the extent of the freshly crowned Shadow King's power. Some say he can command the shadows that swirl around him to do his bidding. Others say they speak to him, whispering the thoughts of his enemies. Regardless, Alessandra knows what she deserves, and she's going to do everything within her power to get it.

But Alessandra's not the only one trying to kill the king. As attempts on his life are made, she finds herself trying to keep him alive long enough for him to make her his queen—all while struggling not to lose her heart. After all, who better for a Shadow King than a cunning, villainous queen?

"Tricia Levenseller's latest, The Shadows Between Us, is a decadent and wickedly addictive fantasy, full of schemes and court intrigue, and delightful descriptions of food, which I am always a fan of." —Kendare Blake, #1 New York Times bestselling author of the Three Dark Crowns series
About the Author
---
Tricia Levenseller, author of several YA fantasy novels, including Daughter of the Pirate King and The Shadows Between Us, grew up in Oregon, where she spent her childhood climbing trees and playing make believe. She now lives in Utah with her bossy dog, Rosy, where she writes full time. When she's not writing or reading, Tricia enjoys putting together jigsaw puzzles, playing Overwatch and Sea of Thieves on her Xbox, and finding tasty restaurants to frequent.
Praise For…
---
"The Shadows Between Us is my favorite kind of fantasy: dark, mesmerizing, and completely addictive. With a gripping mystery and layered characters, it's a glittering tale of love and the pursuit of power. Put simply: it's the Slytherin romance we've all been waiting for." —Kerri Maniscalco, #1 New York Times and USA Today bestselling author of Stalking Jack the Ripper

"Tricia Levenseller's latest, The Shadows Between Us, is a decadent and wickedly addictive fantasy, full of schemes and court intrigue, and delightful descriptions of food, which I am always a fan of." —Kendare Blake, #1 New York Times–bestselling author of the Three Dark Crowns series

"A wickedly fun romp with corsets and jeweled daggers, Levenseller drops us into a competitive royal court, led there by Alessandra, an unapologetically ruthless and self-confident courtier who aims to overthrow the Shadow King and become queen. The king's mysterious abilities and dark secrets complicate her passion to rule, all building to a sizzling, unbidden romance. The Shadows Between Us will heat up the page—and your heart." —Emily R. King, author of The Hundredth Queen series

"A viciously satisfying romance featuring two well-matched opponents." —Booklist

Praise for Tricia Levenseller:
"One of my favourite YA books ever. The action! The world-building! The voice! This book kicks so much ass." -- Cale Dietrich, author of The Love Interest, on Warrior of the Wild

"Rasmira's quest is thrilling, her emotional journey compelling; this adventure sings." --Booklist on Warrior of the Wild

"This high-octane novel is filled with mythical creatures and showcases a heroine who wants to be a warrior, a woman, and a leader." --School Library Journal, on Warrior of the Wild

"The real gratification lies in Rasmira's transformation from broken, betrayed, girl to resourceful, confident victor. Her final clash with the god is heart pounding, and her triumph in front of her village and father is satisfyingly righteous." -- The Bulletin for the Center for Children's Books, on Warrior of the Wild

"Levenseller has created a formidable female character who can take care of herself as she makes some hard decisions." —School Library Journal on Daughter of a Pirate King

"[Levenseller's] words will pull you in, and there's no escaping them." —Charlie N. Holmberg, author of The Paper Magician Series, on Daughter of the Siren Queen

"With a cunning plot, robust writing, and complicated characters, any reader will enjoy being manipulated in Levenseller's capable hands." —Anna Banks, author of the New York Times Bestseller Of Triton, on Daughter of the Pirate King