The Hunting Moon (Luminaries #2) (Hardcover)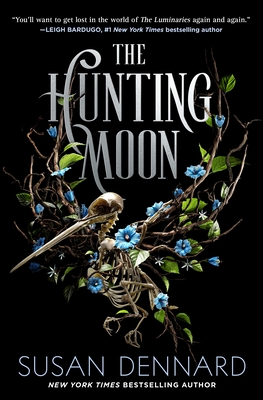 Other Books in Series
This is book number 2 in the Luminaries series.
Description
---
An Instant New York Times and USA Today Bestseller

The Hunting Moon is the highly anticipated sequel to The Luminaries by New York Times bestselling author Susan Dennard

Winnie Wednesday has gotten everything she thought she wanted. She passed the deadly hunter trials, her family has been welcomed back into the Luminaries, and overnight, she has become a local celebrity.

The Girl Who Jumped. The Girl Who Got Bitten.

Unfortunately, it all feels wrong. For one, nobody will believe her about the new nightmare called the Whisperer that's killing hunters each night. Everyone blames the werewolf, even though Winnie is certain the wolf is innocent.

On top of that, following her dad's convoluted clues about the Dianas, their magic, and what happened in Hemlock Falls four years ago is leaving her with more questions than answers.

Then to complicate it all, there is still only one person who can help her: Jay Friday, the boy with plenty of problems all his own.

As bodies and secrets pile up around town, Winnie finds herself questioning what it means to be a true Wednesday and a true Luminary—and also where her fierce-hearted loyalties might ultimately have to lie.
About the Author
---
Susan Dennard is the award-winning, New York Times bestselling author of the Witchlands series (now in development for TV from the Jim Henson Company), and the Something Strange and Deadly series, in addition to short fiction published online. She also runs the popular newsletter for writers, the Misfits and Daydreamers. When not writing or teaching writing, she can be found rolling the dice as a Dungeon Master or mashing buttons on one of her way too many consoles.
Praise For…
---
Praise for The Luminaries:

"Will draw you in and leave you begging for more. Rich with tension, atmosphere, and finesse, you'll want to get lost in the world of The Luminaries again and again."—Leigh Bardugo, #1 New York Times bestselling author of Shadow & Bone and Ninth House

"I lost myself from page one in Hemlock Falls and its deadly forest, as vicious as it is inescapably alluring. Winnie Wednesday is the sort of outcast-turned-monster-hunter you can't help loving and rooting for."—Marissa Meyer, #1 New York Times bestselling author of Gilded

"Readers will want to don a motorcycle jacket and join the nightmare hunt."—Kirkus Review

"Enthralling from the first page, The Luminaries lures you into a misty darkness rife with thrills and romance. Living nightmares may stalk across the pages, but this book is a paranormal fantasy dream. The forest calls, and you will love every second of devouring its mysteries."—Alexandra Bracken, #1 New York Times bestselling author of Lore

"Dennard's newest begins with a triumphant success, heralding her third sensational series filled with delectable worldbuilding and dynamic characters."—Buzzfeed

"The Luminaries is exactly the thrilling, dangerous, heart-pounding fantasy I needed, with an incredibly original world and a heroine who knows and fights for her worth. Prepare yourself accordingly—I devoured this in a single sitting."—Marie Lu, #1 New York Times bestselling author of Skyhunter

"Dennard's newest is overflowing with action, adventure, and mystery with a sprinkling of romance that will keep readers turning the page."—Booklist

"The Luminaries is your next obsession. Part family drama, part fantasy procedural, part helpful guide to monster hunting, all with a dash of romantic tension—this book is all my favorite things combined."—Olivie Blake, New York Times bestselling author of The Atlas Six

"A richly realized tale about monster hunters that explores family, community, and a whole lot of female rage."—Paste

"In The Luminaries, bestselling author Susan Dennard kicks off a darkly magical, action-packed new series and introduces a mysterious world filled with monsters. . . . Plenty of gasp-inducing thrills, monstrous gore and empathetic soul-searching—plus a little tentative flirting—bring The Luminaries to a satisfying conclusion."—BookPage

"The Luminaries is a chilling, gripping contemporary fantasy. . . . readers can only hope that the nightmares induced by The Luminaries will be vanquished by someone as brave and real as Winnie Wednesday."—Shelf Awareness, STARRED review