Undelivered: The Never-Heard Speeches That Would Have Rewritten History (Hardcover)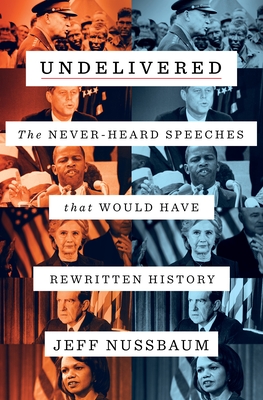 Description
---
A fascinating insight into notable speeches that were never delivered, showing what could have been if history had gone down a different path

For almost every delivered speech, there exists an undelivered opposite. These "second speeches" provide alternative histories of what could have been if not for schedule changes, changes of heart, or momentous turns of events.

In Undelivered, political speechwriter Jeff Nussbaum presents the most notable speeches the public never heard, from Dwight Eisenhower's apology for a D-Day failure to Richard Nixon's refusal to resign the presidency, and even Hillary Clinton's acceptance for a 2016 victory—the latter never seen until now.

Examining the content of these speeches and the context of the historic moments that almost came to be, Nussbaum considers not only what they tell us about the past but also what they can inform us about our present.
About the Author
---
Jeff Nussbaum is a senior speechwriter for President Joe Biden. Prior to that, he was a partner at West Wing Writers, the premier strategy and speechwriting shop in Washington, D.C. He led or co-led speechwriting at the last four Democratic conventions. A graduate of Brown University, he lives outside of D.C.
Praise For…
---
Praise for Undelivered by Jeff Nussbaum

"Ingenious." —The Wall Street Journal

"In Nussbaum's able hands, this cruise through what-might-have-been offers a hell of a fun ride." —Douglas Brinkley, The Washington Post

"Offering a compelling peek behind the curtain of the speechwriting process, Undelivered provides a real life look into histories that never were. Fascinating and immensely insightful." —Jake Tapper, CNN anchor

"History's 'might-have-beens' are often the subject of fiction or speculation. But in some cases, the tides of history came so close to turning that an alternate future wasn't just imagined, it was drafted. Nussbaum has brought many of these chapters in our history, and the words that would have accompanied them, vividly to life." —Nathaniel Philbrick, bestselling author of In the Heart of the Sea

"With the storytelling skill of a speechwriter and the investigative skills of a historian, Nussbaum has assembled a collection that illuminates critical moments in history, and provides a tantalizing look at what might have been." —George Stephanopoulos, ABC News anchor

"Nussbaum brings us a fascinating, harrowing, and sometimes heartbreaking look at history's alternate possibilities. Undelivered is a gripping read that offers a window into the words and events that might have been." —Kerry Washington