A Monk's Guide to Happiness: Meditation in the 21st Century (Hardcover)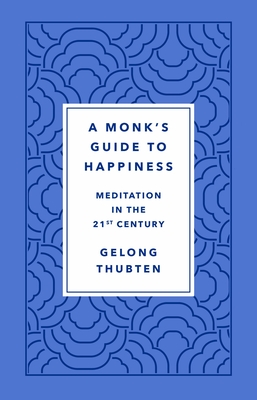 $19.99

Temporarily Out Of Stock - Can Be Ordered For You, Takes Extra Time.
(This book cannot be returned.)
Description
---
A Guide to Meditation and Mindfulness for the Modern Day

In our never-ending search for happiness we often find ourselves looking to external things for fulfillment, thinking that happiness can be unlocked by buying a bigger house, getting the next promotion, or building a perfect family.

In this profound and inspiring book, Gelong Thubten shares a practical and sustainable approach to happiness. Thubten, a Buddhist monk and meditation expert who has worked with everyone from school kids to Silicon Valley entrepreneurs and Benedict Cumberbatch, explains how meditation and mindfulness can create a direct path to happiness.

A Monk's Guide to Happiness explores the nature of happiness and helps bust the myth that our lives and minds are too busy for meditation. The book can show you how to:

- Learn practical methods to help you choose happiness
- Develop greater compassion for yourself and others
- Learn to meditate in micro-moments during a busy day
- Discover that you are naturally 'hard-wired' for happiness


Reading A Monk's Guide to Happiness could revolutionize your relationship with your thoughts and emotions, and help you create a life of true happiness and contentment.
About the Author
---
Gelong Thubten is a Buddhist monk, meditation teacher and author. He was educated at Oxford University, and became an actor in London and New York. At the age of 21 he suffered from severe burnout and a life-threatening heart problem. This dramatic wake-up call led him to join Samye Ling Tibetan Buddhist Monastery in Scotland, where he became a monk. His training over the past 25 years has included spending over six years in intensive meditation retreats, the longest of which lasted four years, and he has studied under some of the greatest Tibetan meditation masters. He is regarded as a highly influential thought-leader, teaching meditation internationally in the fields of charity, education, healthcare and business.
Praise For…
---
'Thubten is a very generous and kind monk who writes with the lived honesty and humour of someone who has experienced the wisdom he shares. His writing is full of inspiration but also the pragmatism needed to form a sustainable practice. His book clearly illustrates why we all need meditation and mindfulness in our lives.'
- Benedict Cumberbatch

"[A] powerful debut... it succeeds as a highly accessible and jargon-free introduction to meditation."
— Publishers Weekly

'Thubten is able to explain meditation using clear language and an approach which really speaks to our modern tech-infused lives. With openness, humility and humour he delivers a deep message that will resonate in our modern culture.'
- Rami Jawhar, Program Manager at Google Arts & Culture


'Gelong Thubten's book is as warm, wise and generous as the man himself. We've never needed a voice like his more.'
- Melanie Reid, The Times

'Compelling to read, yet full of profound wisdom, this wonderful book rationally describes how our mind functions and how we can cultivate the habit of happiness.'
- Professor Lokesh Joshi, Vice President for Research, National University of Ireland

'Gelong Thubten's wonderful book provides a bracing challenge to our search for instant gratification and "instant" happiness, and a lucid, practical, step-by-step path to contentment and a genuine and lasting peace of mind.'
- Mick Brown, journalist for The Daily Telegraph