Can't Look Away: A Novel (Hardcover)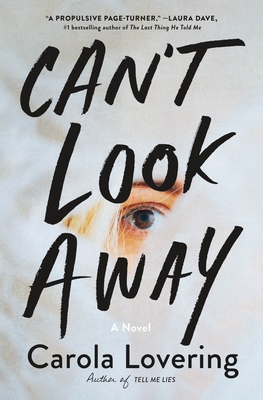 Description
---
In Can't Look Away, Carola Lovering "delivers another winner...a propulsive page-turner about young love and second chances. You won't be able to put this down." —Laura Dave, #1 New York Times bestselling author of The Last Thing He Told Me.

"Fans of Gillian Flynn and Paula Hawkins will enjoy this one." —Publishers Weekly

In 2013, twenty-three-year old Molly Diamond is a barista, dreaming of becoming a writer. One night at a concert in Brooklyn, she locks eyes with the lead singer, Jake Danner, and can't look away. Molly and Jake fall quickly and deeply in love, especially after he writes a hit song about her that puts his band on the map.

Nearly a decade later, Molly has given up writing and is living in Flynn Cove, Connecticut with her young daughter and her husband Hunter—who is decidedly not Jake Danner. Their life looks picture-perfect, but Molly is lonely; she feels out of place with the other women in their wealthy suburb, and is struggling to conceive their second child. When Sabrina, a newcomer in town, walks into the yoga studio where Molly teaches and confesses her own fertility struggles, Molly believes she's finally found a friend.

But Sabrina has her own reasons for moving to Flynn Cove and befriending Molly. And as Sabrina's secrets are slowly unspooled, her connection to Molly becomes clearer––as do secrets of Molly's own, which she's worked hard to keep buried.

Meanwhile, a new version of Jake's hit song is on the radio, forcing Molly to confront her past and ask the ultimate questions: What happens when life turns out nothing like we thought it would, when we were young and dreaming big? Does growing up mean choosing with your head, rather than your heart? And do we ever truly get over our first love?
About the Author
---
Carola Lovering is the bestselling author of the novels Tell Me Lies, Too Good to Be True, and Can't Look Away. She is a graduate of Colorado College, and her work has appeared in Vogue, New York Magazine, W Magazine, National Geographic, Marie Claire, and Yoga Journal, among other publications. Her novel Tell Me Lies is now a television series for Hulu. She lives in Connecticut with her husband and two young children.
Praise For…
---
"Lovering unspools a taut, twisty, humdinger of a plot that encompasses the vagaries of true friendship as well as those of true love. A slow-burning literary tease that plumbs the heights and depths of young love, creative ambitions, friendship, and betrayal." —Kirkus (starred review)

"Sexy suspense and the kind of obsessive love that keeps you coming back – Carola Lovering never disappoints." —Create + Cultivate

"Thriller alert…get ready to be on the edge of your seat." —TheSkimm

"What a book! Layered characters, evil exes, cute kids, bitchy women and handsome rock stars all rolled into one fabulous package...definitely a page-turner." —Mystery and Suspense

"Lovering's nuanced characterizations and interweaving of different voices and timelines add depth to her story of obsession. Fans of Gillian Flynn and Paula Hawkins will enjoy this one." —Publishers Weekly

"Carola Lovering delivers another winner with Can't Look Away, a propulsive page-turner about young love and second chances. You won't be able to put this down." —Laura Dave, #1 New York Times bestselling author of The Last Thing He Told Me

"Sexy and tense, Carola Lovering's Can't Look Away is the kind of book meant for an all-night binge read. Obsession in all its forms tangles with ideas of first love, frenemies, and that most haunting of questions—What if?—to create an especially sophisticated and complex thriller." —Rachel Hawkins, New York Times bestselling author of The Villa

"Get ready for rock and roll, heady nights, and the sting of unrequited love that marinates into a dangerous obsession. Can't Look Away is part love story, part domestic suspense, and Lovering weaves her characters tighter and tighter until the tension is ready to snap. You won't want to put this one down!" —Julie Clark, New York Times bestselling author of The Last Flight

"Carola Lovering gives us so much to love in Can't Look Away—toxic friendship, long-held secrets, the one who got away—all wrapped in gripping obsession and tight with tension. You'll be racing to the end." —Ashley Audrain, New York Times bestselling author of The Push

"In Can't Look Away, Carola Lovering holds the reader in the palm of her hand, giving both a nuanced exploration of love and loss, along with a seductive portrait of no-holds-barred obsession. You will not be able to put it down." —Mary Dixie Carter, author of The Photographer