The King's Shadow: Obsession, Betrayal, and the Deadly Quest for the Lost City of Alexandria (Hardcover)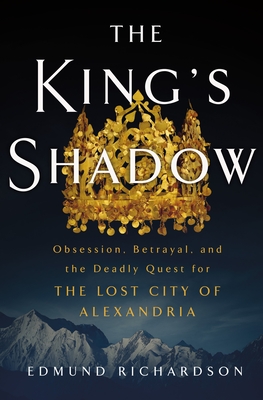 Description
---
A lost city. A thousand-year-old mystery. A quest that changed history.

Beneath the plains of Afghanistan lie the remains of a fabulous city: Alexandria Beneath the Mountains, founded by Alexander the Great. For centuries, it was a meeting point of East and West. Then it vanished.

In 1833, it was discovered by the unlikeliest person imaginable: Charles Masson, spy, archaeologist, deserter, and the greatest of nineteenth-century travelers.

On the way into one of history's most extraordinary stories, Masson would take tea with kings, travel with holy men and become the master of a hundred disguises. He would spy for the British East India Company and be suspected of spying for Russia at the same time. He would starve, talk his way out of prison and flee assassins. He would see things no westerner had glimpsed before and few have glimpsed since.

Masson discovered tens of thousands of pieces of Afghan history, including the 2,000-year-old Bimaran golden casket, which has upon it the earliest known face of the Buddha. On the plains outside Kabul, where Bagram Airbase stands today, he uncovered Alexander's lost city. He would be offered his own kingdom; he would change the world, and the world would destroy him.

This is an astounding journey through nineteenth-century India and Afghanistan, a world of espionage and dreamers, murder, betrayal, and boundless hope. At the edge of empire, amid the deserts and the mountains, The King's Shadow is a story about how our wildest dreams can change the world.
About the Author
---
Edmund Richardson is Professor of Classics at Durham University, UK. He has published Classical Victorians: Scholars, Scoundrels and Generals in Pursuit of Antiquity (2013), and was named one of the BBC/AHRC New Generation Thinkers in 2016.
Praise For…
---
**The Spectator, The Listener and The Daily Telegraph Book of the Year**

"An enthralling addition to the genre...Richardson's colorful and compelling account gives this forgotten figure [explorer Charles Masson] his due." —The New York Times

"Quite a story.... Richardson skillfully weaves the tale of Alexander's empire with Masson's adventures, using a novelistic approach rather than dry academic one that focuses on the action without sacrificing key details about the history." —Associated Press

"This is a jewel of a book. It rescues Masson from history's cutting-room floor and bring him richly, ripely to life." —The Sunday Times

"Utterly brilliant." —The Guardian

"A lucid, thrilling, and poetic narrative that does justice to the subject. [Richardson] is deft at vividly portraying characters in a few well-chosen words." —Literary Review

"Immensely enjoyable...[Richardson] clearly picked up Masson's love of storytelling along the way, as well as his skill for drawing the reader in with a play of smoke and mirrors." —BBC History Magazine

"A brilliant and evocative biography, written with consummate scholarship, great style and wit. Through the study of one man, Richardson illuminates an entire world" —The Daily Telegraph

"In one of history's truly important, but nearly unknown, adventure stories, The King's Shadow opens an incredible world of scholars and scoundrels in nineteenth-century Afghanistan through the weirdly obsessive search for the trail of Alexander the Great by Charles Masson, a military deserter from the British East India Company who became one of the founders of archaeology. This painstaking research has transformed into a fascinating, and sometimes insane, epic. Edmund Richardson's first book leaves me already wanting another one from him."
—Jack Weatherford, author of the New York Times bestseller Genghis Khan and the Making of the Modern World

"One of the great stories of archaeology, exploration and espionage told in full for the first time- and brought to life with passion, style, scholarship, empathy and anger. The story of Charles Masson's desertion from the East India Company and his extraordinary travels and discoveries in Afghanistan have been told before. But until now never has anyone uncovered the full, extraordinary, heart-breaking truth either about his remarkable life or his tragic death and burial in an unmarked grave. Edmund Richardson is a new star whose painstaking research and evocative prose has resulted in an utterly brilliant biography. It deserves all the prizes and acclaim it will undoubtedly win."
—William Dalrymple, author of The Anarchy: The East India Company, Corporate Violence, and the Pillage of an Empire, finalist for the Cundill History Prize

"The King's Shadow feels like fiction - a thrilling lost world of kingdoms, spies, opportunists, and an unforgettable hero in search of glory and riches - and yet it's all real. This is hidden history at its finest: you may have never heard of Charles Masson, but it's safe to say that he changed the world. Richardson's debut is nothing short of extraordinary."
—Kirk Wallace Johnson, author of The Feather Thief: Beauty, Obsession, and the Natural History Heist of the Century

"There is something eerily prescient about reading the adventures of Charles Masson – if that is his real name (it's not) -- as he follows in the faint footsteps of Alexander the Great across Afghanistan, that most exacting of places that even he could not subdue. Richardson's Masson slips and slides across the unforgiving landscape like some brilliant chameleon, changing names and professions with an instinct that makes for irresistible reading as he is thrown from one predicament to the next like some character in a flickering Republic serial, whether it be the unearthing of a golden, priceless artifact to escaping a madman's Chamber of Blood. Hewn with an academic's careful skill and shaped into an astounding story, Masson's strange tale – above his many roles of obsessed archaeologist, agent, spy, and more – is of a man whose own footsteps take on their own legendary status in a land that even he knew could never truly be conquered." —Brad Ricca, Edgar Award-nominated author of True Raiders and Mrs. Sherlock Holmes

"Captivating biography of an archaeological pioneer sure to please history fans and students of the spy game." —Kirkus Reviews, starred

"This well-researched account restores an explorer to his rightful place in history." —Publishers Weekly

"Mesmerizing and informative, The King's Shadow is narrative history at its best." —Shelf Awareness

"We are delighted to report that The King's Shadow is its own treasure, a beautifully told tale about one man's obsessive retracing in the 19th century of the footsteps of Alexander the Great in Afghanistan....Edmund Richardson has written an enthralling chronicle of a slightly insane man on an even more insane quest." --Airmail

"The King's Shadow is history in the best sense of the word – a well-told story that shines a clear and penetrating light on the past. While thoroughly researched and extensively documented, it reads like a thriller by John Grisham. ... The book helps us understand the mystery of Central Asia and why the struggle to control it is such a central feature of our time. Conflicts often have a long fuse, and Richardson shows us when and why the fight over Afghanistan really began." —Christian Science Monitor

"The King's Shadow shines as a real-life action-adventure saga." —Manhattan Book Review