Three Squeezes (Hardcover)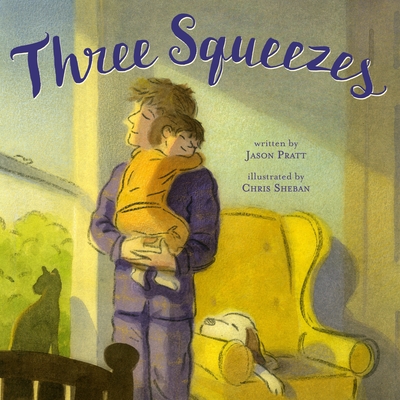 $17.99

Temporarily Out Of Stock - Can Be Ordered For You, Takes Extra Time.
Description
---
When you could neither talk nor stand
life's hourglass still filled with sand,
I gently held your tiny hand
and gave it three soft squeezes.

When you awoke within the night
And cried from fear and called for light,
I held you safe with all my might
and gave you three long squeezes.

Follow a father and his son from babyhood to baseball games to graduation and beyond in this loving saga about the unbreakable bond between generations.

A perfect gift, Three Squeezes is a tender, rhyming picture book that is an ode to the love between parent and child, no matter how old the child (or) parent is.
About the Author
---
Jason Pratt grew up a short bike ride from the beach near Jacksonville, Florida, where he developed his unbreakable habit of saying hello to everyone he passes on the street. When he is not writing or teaching, Jason can be found skiing, fishing, or paddling his kayak along Florida's beautiful waterways. If you happen to see him there, please do say hello.

Chris Sheban won the Gold Medal from the Society of Illustrators for his radiant illustrations in THE STORY OF A SEAGULL AND THE CAT WHO TAUGHT HER TO FLY by Luis Sepulveda. His artwork has also graced the covers of several award-winning novels, as well as picture books. He lives in Northbrook, Illinois.