Within These Wicked Walls: A Novel (Paperback)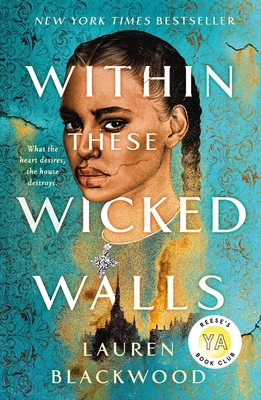 $11.99

Pre-Order Now! Please Place On A Separate Order From Other Purchases.
November/December 2021 Kids Indie Next List
---
"When I heard about this Ethiopian retelling of Jane Eyre, I knew I had to read it, and boy, was I glad I did! Within These Wicked Walls is an enthralling gothic tale full of eccentric and witty characters, horrifying entities, and a tantalizing romance."
— Kassie Weeks, The Oxford Exchange, Tampa, FL
Description
---
The instant New York Times bestseller and Reese's Book Club Fall 2021 YA Pick, now in paperback!

Stunningly romantic, Lauren Blackwood's heartstopping Ethiopian inspired Jane Eyre retelling, Within These Wicked Walls, ushers in an exciting and unforgettable fantasy voice.

What the heart desires, the house destroys...

Andromeda is a debtera—an exorcist hired to cleanse households of the Evil Eye. She would be hired, that is, if her mentor hadn't thrown her out before she could earn her license. Now her only hope of steady work is to find a Patron—a rich, well-connected individual who will vouch for her abilities.

When a handsome young heir named Magnus Rochester reaches out to hire her, she takes the job without question. Never mind that he's rude and demanding and eccentric, that the contract comes with a number of outlandish rules… and that almost a dozen debtera had quit before her. If Andromeda wants to earn a living, she has no choice.

But she quickly realizes this is a job like no other, with horrifying manifestations at every turn, and that Magnus is hiding far more than she has been trained for. Death is the most likely outcome if she stays, the reason every debtera before her quit. But leaving Magnus to live out his curse alone isn't an option because—heaven help her—she's fallen for him.

"[A] can't miss debut." - Harper's Bazaar

"Stunning... An inventive, original, and legitimately scary debut, this is a must for fans of witchcraft, horror, and romance." - Nerdist
About the Author
---
LAUREN BLACKWOOD is a Jamaican American living in Virginia who writes Romance-heavy Fantasy for most ages. When not writing, she's a musician and a tiramisu connoisseur. She's the New York Times bestselling author of Within These Wicked Walls and Wildblood.
Praise For…
---
INSTANT NEW YORK TIMES BESTSELLER
REESE'S BOOK CLUB FALL 2021 YA PICK
INSTANT INDIE BESTSELLER
A NOVEMBER/DECEMBER 2021 KIDS' INDIE NEXT PICK

"Lauren Blackwood's can't-miss debut is a magical, Ethiopian-inspired remix of Jane Eyre." - HARPER'S BAZAAR

"[A] creepy, immersive, romantic and thrilling retelling." - MS. MAGAZINE

"A fast-paced and heart-wrenching tale...Perfect for lovers of light horror, romance, and suspense, Within These Wicked Walls will be a surefire pick for the coming autumn nights." - BOOKLIST (starred review)

"Stunning... An inventive, original, and legitimately scary debut, this is a must for fans of witchcraft, horror, and romance." - NERDIST, "Contemporary Witchy Reads for a Magical Spooky Season"

"Blackwood's eerie, evocative debut fully embraces its gothic lineage and brings a welcome contemporary feel. The book is sure to lure readers in with the promise of hair-raising chills and passionate romance." - THE BULLETIN OF THE CENTER FOR CHILDREN'S BOOKS

"Mesmerizing." - BUZZFEED, "18 Horror Novels About Ghosts You Won't Put Down"

"This action-packed novel draws inspiration from Jane Eyre as our fearless heroine must conquer the supernatural...and survive." - GIRLS' LIFE MAGAZINE

"...a deliciously dark and creepy Ethiopian-inspired romantic retelling of Jane Eyre with a pop of grim humor." - BUZZFEED, "Celebrate Black Love During Black History Month With These 20 YA Books"

"A dazzling retelling of 'Jane Eyre,'... promises readers a fantastical, edge-of-the seat, swooning-over-Magnus kind of experience." - THE SEATTLE TIMES

"Within These Wicked Walls is the best sort of historical fantasy… leaves Jane Eyre in the dust." - LOCUS MAGAZINE

"Blackwood's storytelling skills and the worldbuilding and fantasy components of the novel will intrigue readers... A promising debut." - KIRKUS REVIEWS

"Within These Wicked Walls is an indulgently Gothic fairy tale, comparable in mastery with Mexican Gothic and Jane Eyre. An intricate magic system, a grimly humorous Black heroine, AND a heart-thumping romance? This book leaves nothing wanting." - Jordan Ifueko, New York Times bestselling author of Raybearer

"Within These Wicked Walls adds a haunting new landscape and a chilling curse to Jane Eyre's magnetic romance and searing chemistry. A Gothic retelling, and a true original." - Anna Bright, author of The Beholder

"Fierce, eerie and heartfelt by turns, Within These Wicked Walls is a romantic and spine-chilling reimagining of a classic. I loved every creepy, swoon-worthy moment of it." - Laura E. Weymouth, author of The Light Between Worlds

"Lauren Blackwood's Within These Wicked Walls is the Jane Eyre retelling I didn't know I needed, and everything I needed it to be. Atmospheric and moody, with sharp subtle humor and romance, Andromeda's story is engrossing and unputdownable. This Jane Eyre isn't your average classroom read; it is so much more than that." - Rachel Simon, Newton Free Library