The Book of Fatal Errors: First Book in the Feylawn Chronicles (Paperback)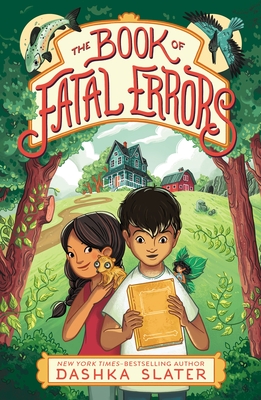 Other Books in Series
This is book number 1 in the The Feylawn Chronicles series.
Description
---
Award-winning author Dashka Slater spins a tale of friendship, magic, and eternal life in The Book of Fatal Errors, an evocative and witty middle-grade fantasy.

Rufus doesn't just make mistakes – he makes fatal errors. Clumsy and awkward, he feels entrapped by his teasing classmates and their constant laughter. But now it is summer. Rufus is free. He roams the wildlands of his grandfather's mysterious homestead, blissfully unaware of the danger up ahead.

And there is much danger. Rufus and his snooty cousin Abigail soon become entangled in the tantalizing world of the feylings, mischievous fairly-like creatures desperate to find their way home. In helping the feylings, Rufus tumbles down a dark path rich with age-old secrets and difficult truths. Any move he makes might be his final fatal error.

Or perhaps, his most spectacular beginning.
About the Author
---
Dashka Slater is the New York Times-bestselling author of The 57 Bus, which won the Stonewall Book Award and was a YALSA nonfiction finalist. Her fiction includes The Book of Fatal Errors, the picture book Escargot, which won the Wanda Gag Book Award; Baby Shoes; The Antlered Ship, which was a Junior Library Guild Selection and received four starred reviews; and Dangerously Ever After. She is also an award-winning journalist whose articles have appeared in Newsweek, Salon, The New York Times Magazine, and Mother Jones. She lives in California.
Praise For…
---
"Amusing scenes balance weightier ones in this appealing chapter book, the first of two volumes planned for the Feylawn Chronicles series." —Booklist

"This is an exciting, fast-paced middle-grade fantasy . . . A delightful read for anyone who loves magic." —Kirkus Reviews

"Sassy feylings and other rambunctious magical creatures make the tale feel fresh . . . Rufus's self-confidence grows with every chapter, and realistic tension between his family members works itself out in a satisfactory, but not simplistic, way." —The Horn Book

"Slater has created a fun, emotionally driven fairy story. VERDICT An excellent readalike for "The Spiderwick Chronicles." –School Library Journal

"With a dash of imagination and a heap of adventure, Slater's middle grade fantasy debut, starring 12-year-old biracial cousins Rufus and Abigail, is certain to appeal to readers of varying ages . . . the growth and maturation Abigail and Rufus undergo together is elegantly addressed in an occasionally dark plot." –Publishers Weekly

"A seamless combination of fantasy and mystery wrapped around a classical coming-of-age narrative, Dashka Slater's The Book of Fatal Errors grabs the readers hand from the first page and tugs them along at a breakneck pace through twist after twist." –Bookpage

"A brilliant story teller, Slater has filled The Book of Fatal Errors with unexpected twists, an engaging mystery and endearing characters, both human and magical. Oh, I do hope for a sequel!" –Kiss the Book Blogspot