Face (Hardcover)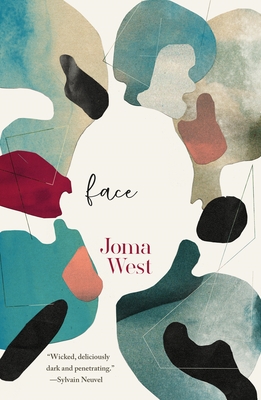 Description
---
When you design your baby's face on a computer it becomes harder to recognize your own.

How much is your Face worth?

Schuyler and Madeleine Burroughs have the perfect Face—rich and powerful enough to assure their dominance in society.

But in Schuyler and Maddie's household, cracks are beginning to appear. Schuyler is bored and taking risks. Maddie is becoming brittle, her happiness ever more fleeting. And their menial is fighting the most bizarre compulsions.

In Face, skin color is an aesthetic choice designed by professionals, consent is a pre-checked box on the path to social acceptance, and your online profile isn't just the most important thing—it's the only thing.

An Amazon Editors' Pick!

A Polygon Most Anticipated Summer Read!

A Buzzfeed Best Book of August!

A Chicago Review of Books Must Read!
About the Author
---
Joma West is a third culture writer whose work straddles both fantasy and science fiction. Growing up bouncing between countries has given her work a certain displaced flavor and you can see many African and Asian influences in her writing. Joma's novella, Wild, won the 2016 MMU novella award and her 2022 debut novel, Face, was met with acclaim. She lives in Glasgow.
Praise For…
---
Praise for Face

"One of the more deeply interesting books I've read this year. Face has more ideas and more originality than most!" —Claire North

"This book is wicked, deliciously dark and penetrating. I think the less you know about it, the better but I will say two things: 1. Joma West is a genius. 2. This is the best thing I've read in a very long time." —Sylvain Neuvel

"Face is a biting look at the dangers of where society places its value...West has been to the future and returned to write a book so powerful it might be the message in a bottle that will save society." —The Chicago Review of Books

"In a world where the only thing that matters is your impact on other people, Hell is absolutely other people. Creepy, unsettling and thoroughly dystopic!" —Genevieve Cogman

"Face is a searing, patient, and unforgiving examination of status, class, and the foundations of humanity. With admirable precision and empathy, Joma West unravels the lies we tell society, our families, and ourselves. A fascinating debut." —Samit Basu

"West carves out a space all her own with this unsettling tale of a dystopian future where designer babies, social media, and racial tension collide in wickedly unpredictable ways." —The Chicago Review of Books

"In the end, in the tradition of many great science fiction novels, Face is about today, about those opinions, theories, and fears. It asks whether we can straighten our spines again and unsquint our eyes long enough to see one another for who we truly are, and to connect on a real level." —Locus

"Ambitious…an absorbing, if unsettling, read." —Booklist

"Joma West burns through cherished illusions and offers a thoroughly entertaining take down of our toxic technology and lethal fixation on status and celebrity. Wicked, witty, and wise, Face illuminates the nightmare at the heart of our dream widgets. This is not a dystopic scold we can ignore, but an elegant wake up call, a marvelous SF delight that breaks our minds wide open." —Andrea Hairston

"A fantastic, futuristic reimagining of the comedy of manners novel, written for our time. West's novel shocks and intrigues in equal measure." —T. L. Huchu

"Face is a compelling dystopian vision that will leave you longing for human touch. If it were an episode of Black Mirror, it would be one of the best." —Oliver Langmead