True or False: A CIA Analyst's Guide to Spotting Fake News (Paperback)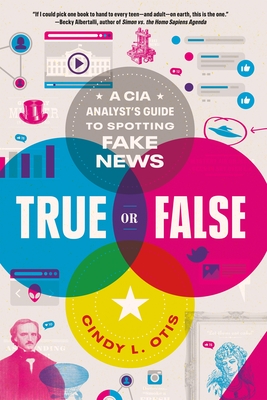 $12.99

Out Of Stock - Can Be Ordered For You. May take extra time.
Description
---
"If I could pick one book to hand to every teen—and adult—on earth, this is the one. True or False is accessible, thorough, and searingly honest, and we desperately needed it." —Becky Albertalli, author of Simon vs. the Homo Sapiens Agenda

A former CIA analyst unveils the true history of fake news and gives readers tips on how to avoid falling victim to it in this highly designed informative YA nonfiction title.

"Fake news" is a term you've probably heard a lot in the last few years, but it's not a new phenomenon. From the ancient Egyptians to the French Revolution to Jack the Ripper and the founding fathers, fake news has been around as long as human civilization. But that doesn't mean that we should just give up on the idea of finding the truth.

In True or False, former CIA analyst Cindy Otis will take readers through the history and impact of misinformation over the centuries, sharing stories from the past and insights that readers today can gain from them. Then, she shares lessons learned in over a decade working for the CIA, including actionable tips on how to spot fake news, how to make sense of the information we receive each day, and, perhaps most importantly, how to understand and see past our own information biases, so that we can think critically about important issues and put events happening around us into context.

True or False includes a wealth of photo illustrations, informative inserts, and sidebars containing interesting facts and trivia sure to engage readers in critical thinking and analysis.

This title has common core connections.
About the Author
---
Cindy L. Otis, author of True or False, knew that she wanted to join the CIA at seven years old when her dad let her watch her first James Bond movie. And after receiving her bachelor's degree in international politics and her master's in international relations with an emphasis in national security from Boston University, her dream came true. Cindy spent most of her career as a military analyst, but also served as an intelligence briefer to the White House, and later, as Branch Chief. She was the recipient of the Army Civilian Service Medal and the CIA's Donald Cryer Award. Cindy now works in cybersecurity, regularly speaking and writing about political and national security issues for various media outlets. She also continues her life-long work advocating for disability rights.
Praise For…
---
"If I could pick one book to hand to every teen—and adult—on earth, this is the one. True or False is accessible, thorough, and searingly honest, and we desperately needed it." —Becky Albertalli, author of Simon vs. the Homo Sapiens Agenda

"Great historic examples. Practical solutions. A guidebook to learning from the past with actionable solutions to help you save our future." —Peiter "Mudge" Zatko, Former Senior Government Official, Famous Hacker, and Information Security Expert

"I couldn't put this down (and even had to fight my husband for it). Entertaining, illuminating, and necessary. A must-read for everyone."—Gloria Chao, author of American Panda and Our Wayward Fate

"A necessary and engaging resource that should be required reading for all high school students. ...The book's droll tone and quick pace will thoroughly engage even those who dislike nonfiction; all readers will be empowered with a more critical eye when browsing their news feeds." —School Library Journal, Starred Review

"Written in an easy, conversational style matched by a user-friendly design with pullouts, exercises, and photographs, it's a book that teachers and civic leaders will want to make required reading." — Publishers Weekly, Starred Review

"Most of the mini lessons herein gain their impact from Otis' engaging storytelling, with historical episodes illustrating the various ways truth has been altered for public consumption followed by .... tips and checklists and self quizzes that encourage readers to hone their own skills at unmasking humbugs." —Bulletin of the Center for Children's Books

"This is an important and timely book. The straightforward language, geared for readers ages 13 to 18, doesn't diminish its usefulness for adults. It would also be a good source for teachers leading middle or high school classes in media studies, current events, or critical thinking." — The Washington Independent Review of Books

"In True or False, Cindy Otis, a former CIA analyst, provides an informative and engaging survey of fake news throughout history; an analysis of principles of psychology (confirmation bias, negativity bias and cognitive dissonance) behind the attraction to it; and practical recommendations and challenging exercises to test our skills for how to avoid falling for it." -- The Jerusalem Post