Essential Prosperity: The Fourteen Most Important Books on Wealth and Riches Ever Written (Paperback)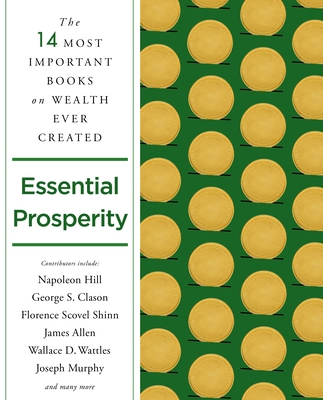 Description
---
The ultimate collection of books for life-changing success

It's time to stop living your life on the margins and claim the financial success you deserve. Essential Prosperity is a treasury of wisdom that will empower you to move from a life of want—defined by debt, fear, and missed possibilities—to one of true success. You have the power and potential to create the life of abundance you've always imagined and Essential Prosperity will show you how.

Essential Prosperity includes fourteen life changing books from the thought leaders and teachers whose work has changed the world, including:

- The Richest Man in Babylon by George S. Clason
- Think and Grow Rich by Napoleon Hill
- Power of Your Subconscious Mind by Joseph Murphy
- As a Man Thinketh by James Allen
- Science of Getting Rich by Wallace Wattles
- The Game of Life by Florence Scovel Shinn
- The Golden Key by Emmet Fox
- The Go-Getter by Peter B. Kyne
- How to Live on 24 Hours a Day by Arnold Bennett
- Acres of Diamonds by Russell Conwell
- Creative Mind and Success by Ernest Holmes
- The Secret of Success by William Walker Atkinson
- The Life Power and How to Use It by Elizabeth Towne
- Prosperity by Annie Rix Militz

These experts speak from every background—from self-help and spirituality to finance and business—each of them sharing the secrets to building life changing wealth and prosperity.
About the Author
---
Napoleon Hill was born in 1883 in a one-room cabin on the Pound River in Wise County, Virginia. He is the author of the motivational classics The Laws of Success and Think and Grow Rich. Hill passed away in November 1970 after a long and successful career writing, teaching, and lecturing about the principles of success. His lifework continues under the direction of the Napoleon Hill Foundation.

James Allen was born in Leicester, England, in 1864. He took his first job at age 15 to support his family, after his father was murdered while looking for work in America. Allen was employed as a factory knitter and a private secretary until the early 1900s, when he became increasingly known for his motivational writing. His 1903 work As a Man Thinketh earned him worldwide fame as a prophet of inspirational thinking and influenced a who's-who of self-help writers, including Napoleon Hill.

Wallace D. Wattles was an influential member of the New Thought movement, helping to spread it's ideals through his groundbreaking classics The Science of Getting Rich, The Science of Being Great, and The Science of Being Well. He died in 1911, but his works continue to influence new generations of readers to this day.

Dr. Joseph Murphy was major figure in the human potential movement, the spiritual heir to writers like James Allen, Dale Carnegie, Napoleon Hill, and Norman Vincent Peale and a precursor and inspirer of contemporary motivational writers and speakers like Tony Robbins, Zig Ziglar and Earl Nightingale. He was one of the best selling authors in the mid-twentieth century. His book The Power of the Subconscious Mind has sold millions of copies and has been translated into seventeen languages.

Born in 1874, George S. Clason founded two publishing companies and was the first to publish a road atlas of North America. He is best known for writing a series of pamphlets advising readers on finding financial success, which were later compiled to form the classic bestseller The Richest Man in Babylon.

Florence Scovel Shinn (1871-1940) was an American artist and book illustrator and a key member of the New Thought movement. After the publication of her first book, The Game of Life and How to Play It in 1925, she became a popular lecturer and writer.

Arnold Bennett was a prolific English novelist and leading realist author during the early twentieth century. In addition to his fictional work, he also wrote selected nonfiction and criticism, including his insightful book How to Live on Twenty-Four Hours a Day.

Ernest Holmes (1887- 1960) was an influential member of the New Thought movement and in 1927 he founded what would later come to be called The Centers for Spiritual Living. There are currently over 400 CSL churches throughout America.

Emmet Fox (1886-1951) was a leader of the New Thought movement and one of the most influential spiritual leaders of the twentieth century. His transformational message—that our reality can be shaped by our thoughts—has empowered millions. His work has impacted spiritual writers such as Wayne Dyer, Esther Hicks, and Louise Hay.

A native of San Francisco, Peter B. Kyne was a prolific screenwriter and the author of the 1920 bestseller Kindred of the Dust. His stories of Cappy Ricks and the Rick's Logging & Lumbering Company were serialized in The Saturday Evening Post and William Randolph Hearst's Cosmopolitan magazine. He died in 1957.

William Walker Atkinson (1862 – 1932) was a noted occultist and pioneer of the New Thought Movement. He wrote extensively throughout his lifetime, often using various psydonyms. He is widely credited with writing The Kybalion and was the founder of the Yogi Publication Society.

Annie Rix Militz was an author and early organizer of the New Thought movement. She is best known as the founder of the Home of Truth.

Russell Conwell was the founder and first president of Temple University in Philadelphia as well as a Baptist minister. His inspirational lecture "Acres of Diamonds" became a classic of New Thought literature.

Elizabeth Towne was an influential leader in the New Thought movement in the United States. She was the founder and publisher of Nautilus Magazine and served as the president of the International New Thought Alliance in 1924.