Maddalena and the Dark: A Novel (Hardcover)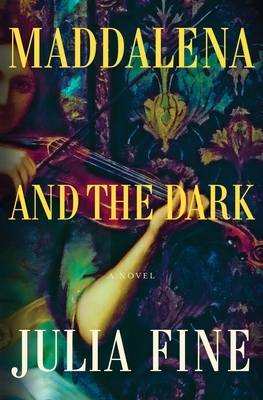 $28.99

Pre-Order Now! Please Place On A Separate Order From Other Purchases.
Description
---
For fans of The Invisible Life of Addie LaRue and Mexican Gothic, a novel set in 18th-century Venice at a prestigious music school, about two girls drawn together by a dangerous wager

"A sumptuous feast of a novel, rich and strange and heady. Julia Fine is an extraordinary writer." —Kelly Link, bestselling author of Get In Trouble

Venice, 1717. Fifteen-year-old Luisa has only wanted one thing: to be the best at violin. As a student at the Ospedale della Pietà, she hopes to join the highest ranks of its illustrious girls' orchestra and become a protégé of the great Antonio Vivaldi. Luisa is good at violin, but she is not the best. She has peers, but she does not have friends. Until Maddalena.

After a scandal threatens her noble family's reputation, Maddalena is sent to the Pietà to preserve her marriage prospects. When she meets Luisa, Maddalena feels the stirrings of a friendship unlike anything she has known. But Maddalena has a secret: she has hatched a dangerous plot to rescue her future her own way. When she invites Luisa into her plans, promising to make her dreams come true, Luisa doesn't hesitate. But every wager has its price, and as the girls are drawn into the decadent world outside the Pietà's walls, they must decide what it is they truly want—and what they will do to pay for it.

Lush and heady, swirling with music and magic, Maddalena and the Dark is a Venetian fairytale about the friendship between two girls and the boundless desire that will set them free, if it doesn't consume them first.
About the Author
---
Julia Fine is the author of The Upstairs House, winner of the Chicago Review of Books Award for Fiction; What Should Be Wild, which was shortlisted for the Bram Stoker Superior First Novel Award; and the forthcoming Maddalena and the Dark. She teaches writing in Chicago, where she lives with her husband and children.
Praise For…
---
A Best Book of Summer (Vanity Fair, LitHub)

A Most Anticipated Book (Salon, LitHub, Bustle, CrimeReads, Chicago Magazine, Polygon)

A Goodreads Editors' Pick

"Absorbing and necessary…Velvet-rich, thick with scrumptious detail, the novel is set in 1717 Venice where two young girls, music students from unlikely and very different circumstances, find each other and find love."
—Salon

"A slow-burn gothic novel…This is the kind of book that will make you lose track of your surroundings as you sink into its enchanted salt marshes… Maddalena and the Dark is an atmospheric banger of a novel."
—LitHub

"[A] beguiling fairy tale."
—Vanity Fair

"A feast of a book—rich in setting, steeped in desire, and haunted by a growing obsession."
—Bustle

"A stunning, sensual novel that drips with period details, gothic atmosphere, and teenage intrigue…Maddalena and the Dark brings 18th-century Venice to life in a unique tactile way, with a memorable mix of historical richness and otherworldly magic."
—Chicago Reader

"Fine beguiles with this decadent tale of desire set in 18th-century Venice…A masterly exploration of the shifting power dynamics of the protagonists' relationship, particularly as Maddalena's devotion to Luisa curdles into obsession. With the alluring Venice backdrop, this will frighten and captivate in equal measure."
—Publishers Weekly (starred review)

"A gothic tale of music, desire, and romantic friendship between women…Fine's writing is rich and transportive, much language coming from musical and Italian lexicons."
—Booklist

"Enchanting…Moody and sumptuous, the novel has many delights in store for lovers of beautiful sentences and lush scene building. The relationship between Luisa and Maddalena is seductive, exciting, and suspenseful."
—Kirkus

"Maddalena and the Dark is chocolate laced with poison. To read it is to fall under an enchantment: 18th-century Venice, desire and obsession, music and ambition, lagoons and monsters. Julia Fine is a writer of ferocious talent and originality, and with her third novel she has crafted a sweeping, dark fairy tale about the violent hearts of teenage girls. I loved it from the first sentence to the astonishing final lines."
—Katie Gutierrez, national bestselling author of More Than You'll Ever Know

"I have fallen in love with Maddalena and the Dark. The writing is exquisite, evoking a world that feels so alive it is itself a character, capable of seduction and menace. This wild, ambitious read speaks to the heart of what it means to be a woman and an artist; it left me breathless. I will shelve it between Mexican Gothic and The Passion and read it again and again."
—Joshilyn Jackson, New York Times bestselling author of Mother May I

"A sumptuous feast of a novel, rich and strange and heady. Julia Fine is an extraordinary writer."
—Kelly Link, national bestselling author of Get In Trouble

"From its first sentence, this novel curled its crooked little witch's finger around my heart and still hasn't let go. I can't decide what I loved most—the Faustian bargain set against an irresistibly lush and mercurial 18th-century Venice, or the shrewd and playful insight into artistic ambition and the high price women are forced to pay for it. Maddalena and the Dark completely seduced me with its menace, and it is undoubtedly Fine's best yet."
—Amy Jo Burns, author of Shiner

"Maddalena and the Dark is a tense, slow-burning portrait of how desire too easily tangles with envy and the price we pay when we get what we want. Julia Fine captures the timeless longing of youth on every page of this novel. Maddalena and the Dark is a book to be savored, felt, and reread. Fine is an author to envy."
—Isle McElroy, author of The Atmospherians and People Collide

"Maddalena and the Dark is an ecstatic, immersive, layered and astonishingly rendered depiction of girlhood, ambition, violence, art, and desire. I loved this novel for its decadence, its impossibly lush sentences, and its heart."
—Lynn Steger Strong, author of Want and Flight

"Julia Fine has done it again! Beautiful, suspenseful, sensuous, real. If you love music or Venice, or if you've ever simply been a young girl aching for womanhood, this is the book for you. Reading this felt like indulging in a secret, in the best way."
—Aja Gabel, author of The Ensemble

"Maddalena and the Dark is the book of my dreams—a feverish, intimate story of obsession and ambition, set in Venice's shadowy canals and glittering palazzos, with an ending that still keeps me up at night. Fine's writing is magnetic and unstoppable. I can't stop talking to people about this book!"
—Sara Sligar, author of Take Me Apart