Thinning Blood: A Memoir of Family, Myth, and Identity (Hardcover)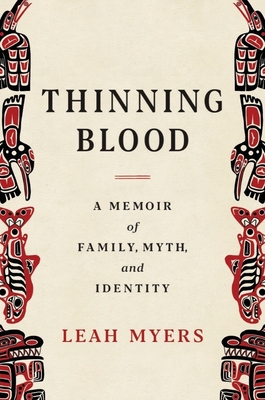 Description
---
Named a Most Anticipated Book of 2023 by The Millions



A vibrant new voice blends Native folklore and the search for identity in a fierce debut work of personal history.
Leah Myers may be the last member of the Jamestown S'Klallam Tribe in her family line, due to her tribe's strict blood quantum laws. In this unflinching and intimate memoir, Myers excavates the stories of four generations of women in order to leave a record of her family. Beginning with her great-grandmother, the last full-blooded Native member in their lineage, she connects each woman with her totem to construct her family's totem pole: protective Bear, defiant Salmon, compassionate Hummingbird, and perched on top, Raven.
As she pieces together their stories, Myers weaves in tribal folktales, the history of the Native genocide, and Native mythology. Throughout, she tells the larger story of how, as she puts it, her "culture is being bleached out," offering sharp vignettes of her own life between White and Native worlds: her naive childhood love for Pocahontas, her struggles with the Klallam language, the violence she faced at the hands of a close White friend as a teenager.
Crisp and powerful, Thinning Blood is at once a bold reclamation of one woman's identity and a searingly honest meditation on heritage, family, and what it means to belong.
About the Author
---
Leah Myers received an MFA in creative nonfiction from the University of New Orleans, where she won the Samuel Mockbee Award for Nonfiction two years in a row. She now lives in Alabama, with roots in Georgia, Arizona, and Washington.
Praise For…
---
Finely crafted…Thinning Blood is slender and poetic but also wide-ranging, moving with ease from memoir to Native history to myth and back again, yielding a blend that transcends genre.

— Maud Newton - New York Times Book Review

[A] beautifully-rendered memoir…This is a quietly powerful book, and I can't wait to see what Myers writes next.
— Jaime Herndon - Book Riot

[A] searing debut…Myers's fierce testimony is both record and reclamation of [family] history, told beautifully and simply. Any family would be lucky to have their story handled with this much care.
— Publishers Weekly

A quietly elegiac memoir that could serve as an enduring historical document.
— Kirkus Reviews

This powerful, memorable debut runs hot with Leah Myers's fierce intelligence. She admirably interrogates her relationship to identity, her place in her family's history, and the future of her people—and demands a long-delayed justice.
— Matt Bell, author of Appleseed

Thinning Blood is a powerful testament to the power of storytelling. It is both personal and historical, factual and deeply imaginative. Leah Myers is an honest and passionate witness to the culture and people that produced her. Her essays pay tribute to the complexity of memory, and the tenacity of experience.

— Emily Bernard, author of Black Is the Body

In this powerful debut, Leah Myers reveals with unvarnished honesty something that so often remains unspoken: what it feels like to teeter on the edge of identity, to face down the specter of erasure and a dwindling sense of self. By reconstructing family history and myth, she uncovers old foundations and builds a new home atop them, throwing its doors open, miraculously, to all of us.
— Francisco Cantú, author of The Line Becomes a River