Fantastic Beasts and Where to Find Them (Hogwarts Library Book) (Hardcover)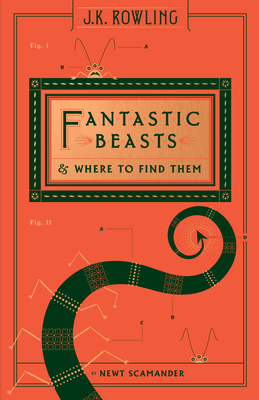 Description
---
A brand new edition of this essential companion to the Harry Potter stories, with a new foreword from J.K. Rowling (writing as Newt Scamander), and 6 new beasts!Fantastic Beasts and Where to Find Them, Newt Scamander's classic compendium of magical creatures, has delighted generations of wizarding readers. Now, in this updated edition with a new foreword by Newt himself and the unveiling of six beasts little known outside the American wizarding community, Muggles too have the chance to discover where the Thunderbird lives, what the Puffskein eats, and why shiny objects should always be kept away from the Niffler. Proceeds from the sale of this book will go to Comic Relief and J.K. Rowling's international charity, Lumos, which will do magic beyond the powers of any wizard. If you feel that this is insufficient reason to part with your money, one can only hope that passing wizards feel more charitable if they see you being attacked by a Manticore.
About the Author
---
J.K. Rowling is the author of the seven Harry Potter books, which have sold over 500 million copies, been translated into over 80 languages, and made into eight blockbuster films. She also wrote three short series companion volumes for charity, including Fantastic Beasts and Where to Find Them, which later became the inspiration for a new series of films. Harry's story as a grown-up was later continued in a stage play, Harry Potter and the Cursed Child, which J.K. Rowling wrote with playwright Jack Thorne and director John Tiffany.
In 2020, she returned to publishing for younger children with the fairy tale The Ickabog, which she initially published for free online for children in lockdown, later donating all her book royalties to help vulnerable groups affected by the Covid-19 pandemic.
J.K. Rowling has received many awards and honors for her writing, including for her detective series written under the name Robert Galbraith. She supports a wide number of humanitarian causes through her charitable trust Volant, and is the founder of the children's care reform charity Lumos.
For as long as she can remember, J.K. Rowling wanted to be a writer, and is at her happiest in a room, making things up. She lives in Scotland with her family.