Treasure of the Gold Dragon: A Branches Book (Dragon Masters #12) (Paperback)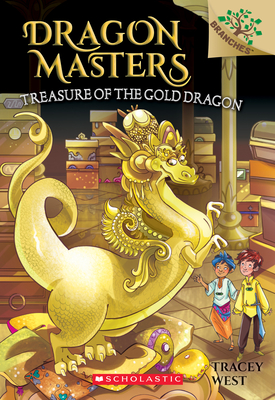 Other Books in Series
This is book number 12 in the Dragon Masters series.
Description
---
The race is on to find the Gold Key!Pick a book. Grow a Reader! This series is part of Scholastic's early chapter book line, Branches, aimed at newly independent readers. With easy-to-read text, high-interest content, fast-paced plots, and illustrations on every page, these books will boost reading confidence and stamina. Branches books help readers grow. In the 12th book of this fantasy series, Maldred is after the powerful Gold Key! Drake and Rori travel to the lair of the Gold Dragon to help protect the key. There, they meet a new Dragon Master named Darma. If dark wizard Maldred gets his hands on the Gold Key, he will be one step closer to controlling a powerful Earthquake Dragon. Can the Dragon Masters stop him before it's too late? The action is nonstop in this exciting, heavily illustrated early chapter book series!
About the Author
---
Sara Foresti grew up in a small town in Northern Italy, and graduated from graphic design school in 2007. She works as a freelance illustrator on everything from children's literature to greeting cards, educational and fiction books, digital apps, videos, and other work in design and comics.
Tracey West is the author of the New York Times bestselling series Dragon Masters, for Scholastic Branches. She has written more than 400 books for children, including the Underdogs series, illustrated by Kyla May; the Pixie Tricks series, illustrated by Xavier Bonet, and the perennially popular Pokémon chapter books. She lives with her husband, adopted dogs, and chickens in the western Catskill mountains of New York State.
Praise For…
---
A New York Times bestselling series!
Praise for Rise of the Earth Dragon (Dragon Masters #1):
"In this first of the Dragon Masters series, vocabularly is accessible; sentences, paragraphs, and chapters are short; and dialogue moves the story along rapidly. Black-and-white sketch-type drawings add depth to the story and feelings to the characters (both children and dragons). Emergent readers will find happy success here." -- Booklist
"The first of a new series of early chapter books, this entry is sure to attract fans. Brief chapters, large print, lots of action, attractive illustrations in every spread including a maplike panorama, an enviable protagonist -- who wouldn't want to be a Dragon Master? -- all combine to make an entertaining read. With plenty left to be resolved, the next entry will be eagerly sought after." - Kirkus Reviews
"Each page features wonderfully detailed pencil illustrations which help to support the text." -- Library Media Connection
Praise for BRANCHES books:
"These books should be considered for larger libraries wanting to enhance their easy-reader collections." -- School Library Journal
"A nice stepping stone to more advanced chapter books." -- Booklist
A New York Times bestselling series!
Praise for Rise of the Earth Dragon (Dragon Masters #1):
"In this first of the Dragon Masters series, vocabularly is accessible; sentences, paragraphs, and chapters are short; and dialogue moves the story along rapidly. Black-and-white sketch-type drawings add depth to the story and feelings to the characters (both children and dragons). Emergent readers will find happy success here." -- Booklist
"The first of a new series of early chapter books, this entry is sure to attract fans. Brief chapters, large print, lots of action, attractive illustrations in every spread including a maplike panorama, an enviable protagonist -- who wouldn't want to be a Dragon Master? -- all combine to make an entertaining read. With plenty left to be resolved, the next entry will be eagerly sought after." - Kirkus Reviews
"Each page features wonderfully detailed pencil illustrations which help to support the text." -- Library Media Connection
Praise for BRANCHES books:
"These books should be considered for larger libraries wanting to enhance their easy-reader collections." -- School Library Journal
"A nice stepping stone to more advanced chapter books." -- Booklist