Peppa Pig: ¡Compartir es genial! (Learning to Share) (Paperback)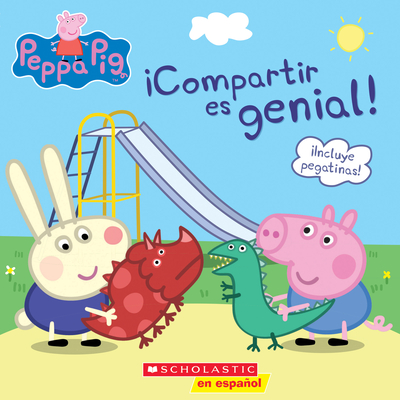 $4.99
Temporarily Out Of Stock - Can Be Ordered For You, Takes Extra Time.
Description
---
George and Richard Rabbit learn how to share their toys in this story with a sheet of stickers. Based on the hit TV show, as seen on Nick Jr.Peppa in Spanish! George has a toy dinosaur, and so does Richard Rabbit! But one day at the playground, they do not want to share their toys. Can Peppa Pig and Rebecca Rabbit help their little brothers learn to play together nicely? This storybook with stickers is based on the hit television show, as seen on Nick Jr.George y Richard tienen dinosaurios de juguetes, pero no quieren compartir. ¿Podrán la Cerdita Peppa y la Coneja Rebecca enseñarlos a ser amables el uno con el otro? Un cuento sobre compartir, con pegatinas, basado en la popular serie de televisión de Nick Jr.
About the Author
---
Meredith Rusu is the author of more than 50 children's books, specializing in titles based on television and movies such as LEGO Ninjago, Peppa Pig, and Star Wars. She is also the author of The DATA Set series under the name Ada Hopper. Meredith lives in New Jersey with her husband and two young sons who provide much of the inspiration for her writing. When she isn't working, Meredith enjoys karaoke, spending time with family, and going on the occasional adventure or two.