I Am Ruby Bridges (Hardcover)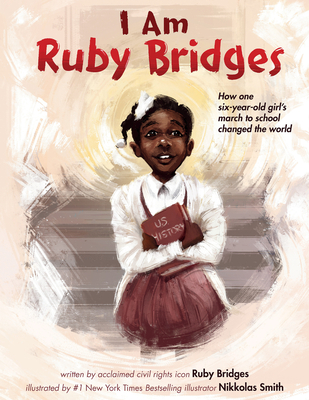 $18.99

Pre-Order Now! Please Place On A Separate Order From Other Purchases.
Description
---
In a beautiful and poetic reflection, Ruby Bridges tells her story as never before and shares the events of the momentous day in 1960 when Ruby became the first child to integrate the school system as a six year old little girl -- a personal and intimate look through a child's lens at a landmark moment in our Civil Rights history.
My work will be precious,
I will be a bridge between people…
I will bridge the "gap" between black & white…
… but hopefully all people!
I suppose some things in life are just meant to be.
When Ruby Bridges was just six years old, she became the first African American student to integrate an elementary school in the South. Based on the pivotal events that happened in 1960 and told from her own point of view for the first time, in a poetic reflection on her experience that changed the face of history and the trajectory of the Civil Rights movement.
I Am Ruby Bridges offers hope and confidence to all children and is a perfect learning tool for schools and libraries to teach the story of Ruby Bridges as never before and introducing this landmark story to young readers in a powerful new way. This story of innocence and courage is brought to life by NAACP-nominated artist, Nikkolas Smith through stunning and beautiful illustrations.Embracing the meaning of her name, Bridges reflects with poignancy and heart on the way one brave little girl stood proud and tall to help build a bridge between all people and pave the path for future generations.
About the Author
---
Nikkolas Smith, a native of Houston, Texas, is a Master of Architecture recipient from Hampton University. He is an ARTivist, Concept artist, Children's Books Author, Film Illustrator and Movie poster designer (Black Panther, Soul, Beale Street, Southside With You, Dear White People, Stranger Fruit). He is the author/illustrator of the picture books The Golden Girls of Rio (nominated for an NAACP Image Award) and My Hair Is Poofy And That's Okay. The latest children's book he has illustrated, World Cup Women, features the World Champion USWNT. He lives in Los Angeles, California.
Ruby Bridges became a pioneer in school integration at the age of six, when she was chosen to spend her first-grade year in what had formerly been an all-white elementary school. Ruby Bridges now works as a lecturer, telling her story to adults and children alike. She lives with her husband and sons in New Orleans, Louisiana.
Praise For…
---
Praise for Through My Eyes:
"Compelling." -- School Library Journal
"Bridges's words, recalling a child's innocence and trust, are more vivid than even the best of the photos. Like poetry or prayer, they melt the heart." -- Publishers Weekly