Zombies vs. Unicorns (Paperback)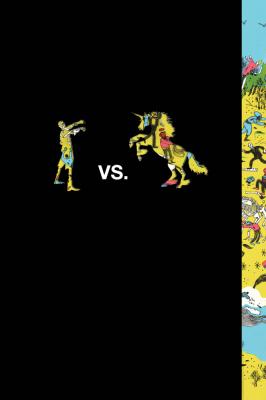 Description
---
It's time to decide: Team Zombie or Team Unicorn? A must-have anthology with contributions from bestselling YA authors is now available in paperback!

It's a question as old as time itself: Which is better, the zombie or the unicorn? This all-original, tongue-in-cheek anthology edited by Holly Black (Team Unicorn) and Justine Larbalestier (Team Zombie), makes strong arguments for both sides in the form of spectacular short stories. Contributors include bestselling authors Cassandra Clare, Libba Bray, Maureen Johnson, Meg Cabot, Scott Westerfeld, and Margo Lanagan.

Discover how unicorns use their powers for evil, why zombies aren't always the enemy, and much more in this creative, laugh-out-loud collection that will have everyone asking: Team Zombie or Team Unicorn?
About the Author
---
Holly Black is the #1 New York Times bestselling and award-winning author of speculative and fantasy novels, short stories, and comics. She has been a finalist for an Eisner and a Lodestar Award, and the recipient of the Mythopoeic and Nebula Awards and a Newbery Honor. She has sold over twenty-six million books worldwide, and her work has been translated into over thirty languages and adapted for film. She currently lives in New England with her husband and son in a house with a secret library. Visit her at BlackHolly.com.

Justine Larbalestier is the author of several teen novels, including LIAR, the MAGIC OR MADNESS trilogy, and HOW TO DITCH YOUR FAIRY. She was born and raised in Sydney, Australia, and she and her husband, Scott Westerfeld, now split their time between Sydney and New York City. Visit Justine at justinelarbalestier.com.
Praise For…
---
"Forget vampires vs. werewolves; the hottest feud is between fans of the fiercely magical horses and the shambling, brain-eating undead. . . . Who is the victor in this epic smackdown? Readers, of course!" - Kirkus Reviews



* "In this offbeat anthology, editors Black and Larbalestier embark upon a literary throw-down to determine which is superior: zombies or unicorns. . . . Without a clunker in the bunch, this anthology more than lives up to the potential its concept suggests. Zombies or unicorns? There's no clear winner, unless it's readers." - Publishers Weekly, starred review



"Who ultimately wins? To reuse an old joke: everyone." - Booklist



* "This is a must-have for fantasy collections." - School Library Journal, starred review