Funny Bones: Posada and His Day of the Dead Calaveras (Hardcover)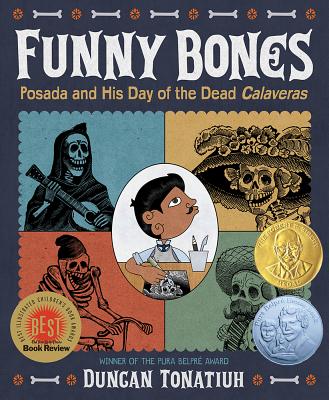 Description
---
A New York Times Best Illustrated Children's Books of the Year
A Robert F. Sibert Award Winner
A Pura Belpré Illustrator Honor Book
An ALA/ALSC Notable Children's Book
STARRED REVIEW *"Playful but informative . . . a fascinating introduction to the artist and his work." ―Booklist
STARRED REVIEW *"Artistically beautiful and factually accessible . . . effectively blends artistic and political content for young readers." ―Kirkus Reviews

Discover the story behind José Guadalupe Posada's iconic Día de Muertos skeletons in this fascinating picture book from award-winning creator Duncan Tonatiuh.

Funny Bones tells the story of how calaveras came to be. The amusing figures are the creation of Mexican artist José Guadalupe (Lupe) Posada (1852–1913). Lupe learned the art of printing at a young age and soon had his own shop. In a country that was not known for freedom of speech, he drew political cartoons, much to the amusement of the local population but not to the politicians.

While he continued to draw cartoons, he is best known today for his calavera drawings. They have become synonymous with Mexico's Día de Muertos festival. Calaveras are skeletons performing all sorts of activities, both everyday and festive: dancing in the streets, playing instruments in a band, pedaling bicycles, promenading in the park, and even sweeping the sidewalks.

They are not intended to be frightening, but rather to celebrate the joy of living and provide humorous observations about people. Author and illustrator Tonatiuh relates the pivotal moments of Lupe's life and explains the different artistic processes he used.

Juxtaposing his own artwork with Lupe's, Tonatiuh brings to light the remarkable life and work of a man beloved by many but whose name has remained in obscurity.
About the Author
---
Duncan Tonatiuh (toh-nah-tee-YOU) is an award-winning author-illustrator whose numerous accolades include the Sibert Medal and the Pura Belpré Award. Duncan is both Mexican and American. His artwork is inspired by Mesoamerican art. His aim is to create images and stories that honor the past, but are relevant to today's people, especially children. He grew up in and currently lives in San Miguel de Allende, Mexico, where he celebrates Día de Muertos with his wife and children every year. Learn more at duncantonatiuh.com.
Praise For…
---
"Befitting its subject, the book communicates through its visual aesthetic. Tonatiuh integrates images of Posada's old-school calaveras with his own illustrations, done in the sophisticated style that has won him acclaim…It's wonderful to see the nuts and bolts of an artist's work presented so that children can understand the painstaking work involved in anything that looks cool and effortless."
— The New York Times Book Review

**STARRED REVIEW**
"Playful but informative, this picture book offers a fascinating introduction to the artist and his work."
— Booklist

**STARRED REVIEW**
"Tonatiuh skillfully blends his own distinctive style of digital collage and hand drawings not only to highlight events in Posada's life, but also to add whimsical elements by introducing contemporary calaveras. He incorporates amusing, thoughtful exercises for young readers into the narrative, prompting them to interpret the messages behind Posada's artwork... Tonatiuh further marks himself as a major nonfiction talent with this artistically beautiful and factually accessible offering that effectively blends artistic and political content for young readers."
— Kirkus Reviews

**STARRED REVIEW**
"A wealth of biographical and contextual information... it's a valuable introduction to Posada that will leave readers thinking about the process of creating art and the social impact it can have."
— Publishers Weekly

**STARRED REVIEW**
"The beautifully expressive Day of the Dead-inspired illustrations on heavy paper pages sport borders of bones, grinning skeletons, and Tonatiuh's signature figures shown in profile, influenced by the ancient Mexican art of his ancestors. Simple yet effective sentences accompany step-by-step images detailing the artistic processes that Posada learned as a printer's apprentice... A stunning work, with great possibilities for lesson plans or tie-ins with Day of the Dead."
— School Library Journal