Lafayette! (Nathan Hale's Hazardous Tales #8): A Revolutionary War Tale (Hardcover)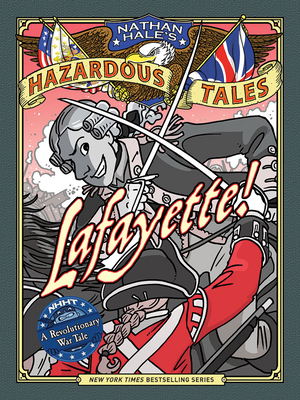 $14.99

Out Of Stock - Can Be Ordered For You. May take extra time.
Description
---
Meet French nobleman and American Revolutionary War hero the Marquis de Lafayette in author-illustrator Nathan Hale's New York Times bestselling Hazard Tales graphic novel series.

STARRED REVIEW *"Action-packed. . . . A must-buy." —School Library Journal

"These books are, quite simply, brilliant. . . . Thrilling, bloody, action-packed stories from American history." —New York Times

Gilbert du Motier became the Marquis de Lafayette at a young age, but he was not satisfied with the comforts of French nobility. He wanted adventure! A major general by nineteen, he was eager to prove himself in battle. When he heard about the revolution going on in America, he went overseas.

He fought with George Washington and Alexander Hamilton in America's war for independence. Passionate about the American cause—and endearing—Lafayette was accepted into the Continental Army when other French officers were not because of his willingness to learn (and because his wealth meant that he didn't require a salary). General Washington took him under his wing, and Lafayette's loyalty to the commander-in-chief even saved Washington from a plot to remove him from command.

Lafayette would become a legend on both sides of the Atlantic and a symbol of the enduring friendship between America and France.

Nathan Hale's Hazardous Tales! Read them all—if you dare!
One Dead Spy: A Revolutionary War Tale (#1)
Big Bad Ironclad!: A Civil War Tale (#2)
Donner Dinner Party: A Pioneer Tale (#3)
Treaties, Trenches, Mud, and Blood: A World War I Tale (#4)
The Underground Abductor: An Abolitionist Tale about Harriet Tubman (#5)
Alamo All-Stars: A Texas Tale (#6)
Raid of No Return: A World War II Tale of the Doolittle Raid (#7)
Lafayette!: A Revolutionary War Tale (#8)
Major Impossible: A Grand Canyon Tale (#9)
Blades of Freedom: A Tale of Haiti, Napoleon, and the Louisiana Purchase (#10)
Cold War Correspondent: A Korean War Tale (#11)
Above the Trenches: A WWI Flying Ace Tale (#12)
About the Author
---
Nathan Hale is the #1 New York Times bestselling author and illustrator of the Nathan Hale's Hazardous Tales series. He also wrote and illustrated the graphic novels One Trick Pony and Apocalypse Taco. Hale lives in Utah, and you can find him online.
Praise For…
---
**STARRED REVIEW**
"Newcomers to the series are given enough context in the first few pages to figure out the dynamic among the Provost, Hangman, and Hale and will soon feel in on the jokes in the meta commentary. As has become customary in the "Hazardous Tales," accurate historical facts are made fun and palatable through the action-packed graphic format and a humorous lens . . . A must-buy."—School Library Journal

"Hale does a tremendous job of telling the complicated story of one of the most celebrated men in history with facts and figures interspersed throughout the often humorous and informative narrative. His intricately drawn panels are beautifully colored . . . His precise linework and neat lettering make the multitude of thought and speech balloons in the easy-to-read panels. History lovers and comics readers alike will thoroughly enjoy this story of Lafayette and his quest for victory."—Booklist

"Hale (the author) yet again weaves a delightful and engaging narrative sprinkled with silly and scatalogical humor . . . Fans of history, Hamilton, and/or Hale's previous entries will be clamoring for this latest volume."—Kirkus Reviews