Tortoise and Hare: A Fairy Tale to Help You Find Balance (Feel-Good Fairy Tales) (Hardcover)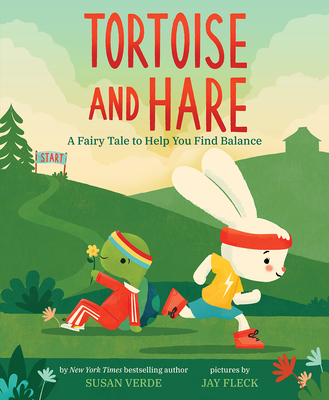 Description
---
A fractured fairy tale to help kids slow down and find their energy, from New York Times bestseller and mindfulness expert Susan Verde!
Once upon a time there were two neighbors, Hare and Tortoise. Although they lived side by side, they did things very differently.

Hare did everything quickly and energetically. But she was so busy that she didn't always pay attention to the things—or people—around her. Some might say she was too fast.

Tortoise did everything slowly and thoughtfully. But sometimes he took so much time that he had trouble finishing things. Some might say he was too slow.

What will happen when the two come head to head? In this original spin on a classic fairytale, New York Times bestselling author Susan Verde and illustrator Jay Fleck explore how too much of anything won't get you across the finish line, and how having a friend to help you find balance is the best thing of all.

Includes exercises to help YOU find your "just right."
About the Author
---
Susan Verde is the bestselling author of I Am Yoga, I Am Peace, I Am Human, I Am Love, I Am One, and The Museum, all illustrated by Peter H. Reynolds, as well as the Feel-Good Fairy Tales books, illustrated by Jay Fleck, and Rock 'n' Roll Soul, illustrated by Matthew Cordell. She teaches yoga and mindfulness to children and lives with her three children in East Hampton, New York. Peter H. Reynolds is the illustrator of many bestselling and award-winning picture books, including The Dot, Ish, I Am Yoga, I Am Peace, I Am Human, I Am Love, I Am One, I Am Courage, and I Am Me. He lives in Dedham, Massachusetts, where he operates the beloved shop Blue Bunny Books and Toys.

Jay Fleck drew a lot as a child but grew up to pursue other things, such as a degree in computer engineering. He found a renewed interest in art while living in Chicago, inspired by the art and culture found throughout the city. Jay is the author-illustrator of Tilly & Tank and the illustrator of a number of other children's books. He now resides in a suburb south of Chicago with his wife, two children, and loyal dog, Otis. He spends his spare time running, reading, and daydreaming.
Praise For…
---
**STARRED REVIEW**
"The book's bright, digital illustrations are simplistic and engaging, and children will find solace in their warmth and peacefulness. The story lends itself well to lessons on mindfulness, meditation, friendship, and learning to enjoy the beauty of nature. This is a perfect choice for children who hate being rushed and those who are always rushing to complete tasks."
— Booklist